It worked so well last year Ducati once again created major excitement with a 7-episode video release for the 2023 new models.
The Italian brand has significant introductions all over the lineup. The 1st premier came out strong, showcasing the second brilliant collaboration between Ducati and Lamborghini. The 7th and last premier introduced the Next Gen Scrambler models. From Monster and Diavel to Panigale and Multistrada, there are amazing new models for 2023.
Alright enough of my babble, let's get into it and check out every model in the 2023 Ducati lineup.
2023 Ducati DesertX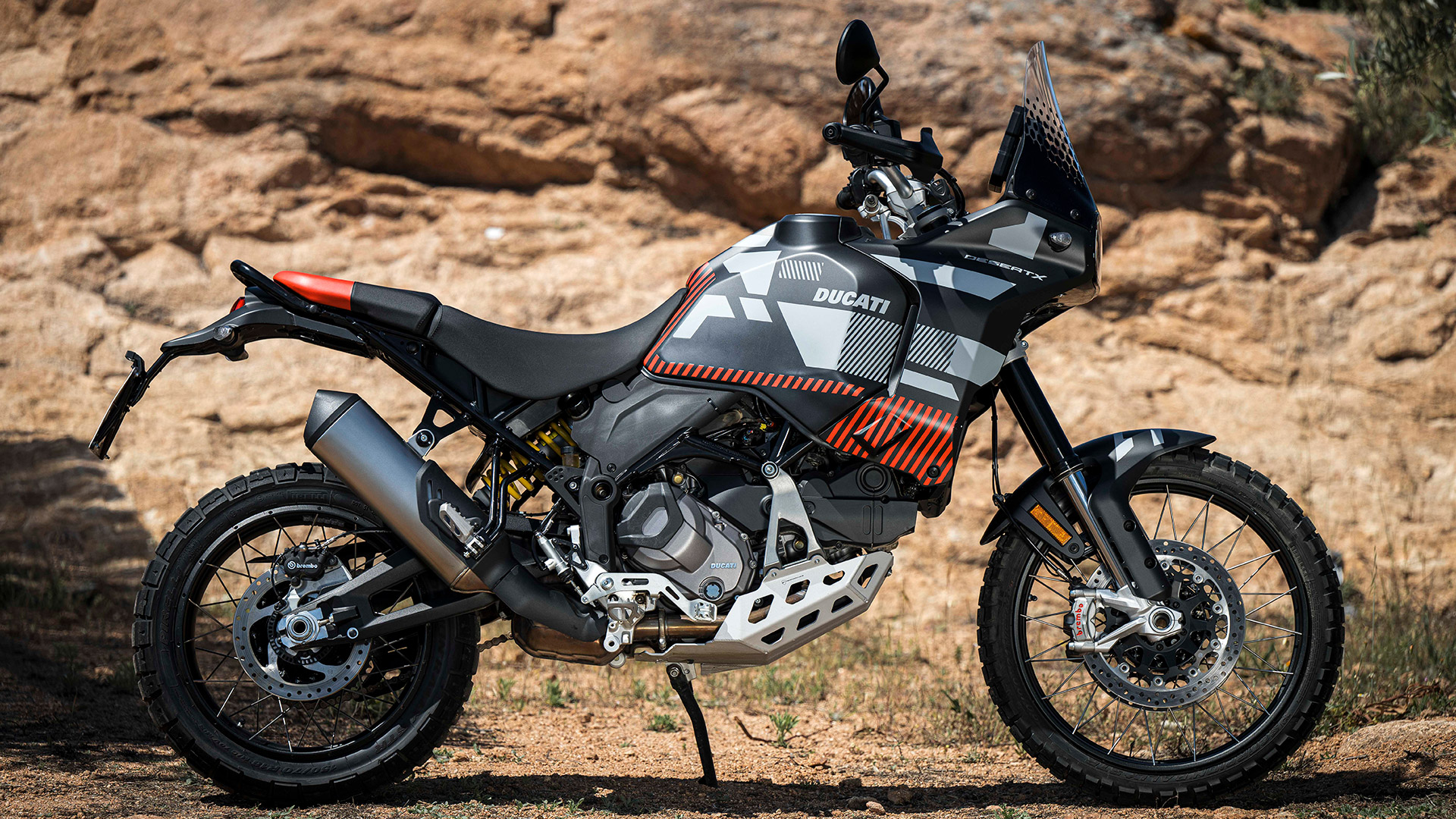 Ducati introduces new livery for the 2023 DesertX after an extremely successful introduction in 2022. The new RR22 livery complements the Star White Silk color scheme and was inspired by the Audi RS Q e-Tron that competed in the previous Dakar.
It is powered by the newest iteration of the 937 cc Testastretta engine, which it shares with the new Multistrada V2, is set up to produce 110 horsepower, and is enclosed in a trellis frame made of tubular steel. equipped with Brembo brakes that include 320mm front and 265mm rear discs, as well as a fully adjustable Kayaba suspension with 9.1/8.7 inches of front/rear travel. The DesertX boasts 4 selectable power levels, 6 riding modes, 3 ABS settings, even the display gives a road display and the most recent IMU technology.
2023 Color: RR22 and Star White Silk
2023 Ducati Diavel
2023 Ducati Diavel V4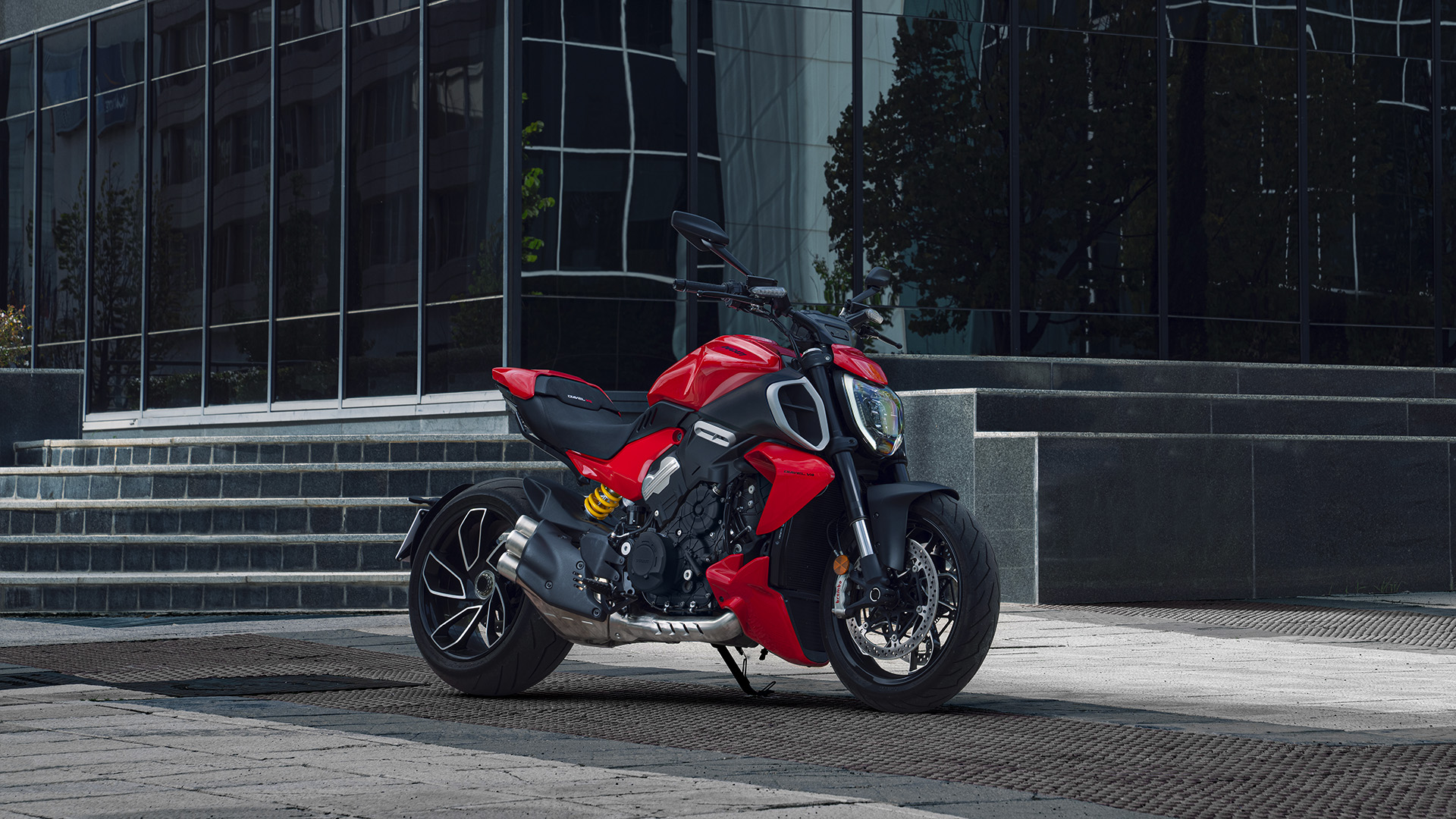 With this all-new Diavel the V4 Granturismo takes center stage and is given the freedom to fully show its individuality. The four-cylinder Ducati engine ensures excellent performance, putting down 168hp and 93 lb-ft of torque. The redesigned chassis perfectly complements the Diavel's traditional characteristics, including its distinctive riding position and comfort during medium-range touring. In addition, handling and agility visibly increase as a result of a significant weight reduction.
The Diavel V4 has an aluminum monocoque frame and single-sided swingarm for its chassis, which when paired with the V4 Granturismo's small weight, results in a curb weight without fuel of 223 kg, which is an improvement over the Diavel 1260 S by more than 13 kg.
The Diavel V4's five-spoke wheels with an exposed machined profile are also a crucial component of its styling.The direction indicators are integrated into the handlebar in front of the brake and clutch controls, cleaning up the front view while the LED daytime running light is fashioned like a double C up front.
In the side perspective, the exhaust is once again prominent and concludes with a four-outlet muffler that clearly identifies the V4 Granturismo engine's 4-cylinder architecture.
2023 Color: Ducati Red and Thrilling Black
2023 Ducati Diavel 1260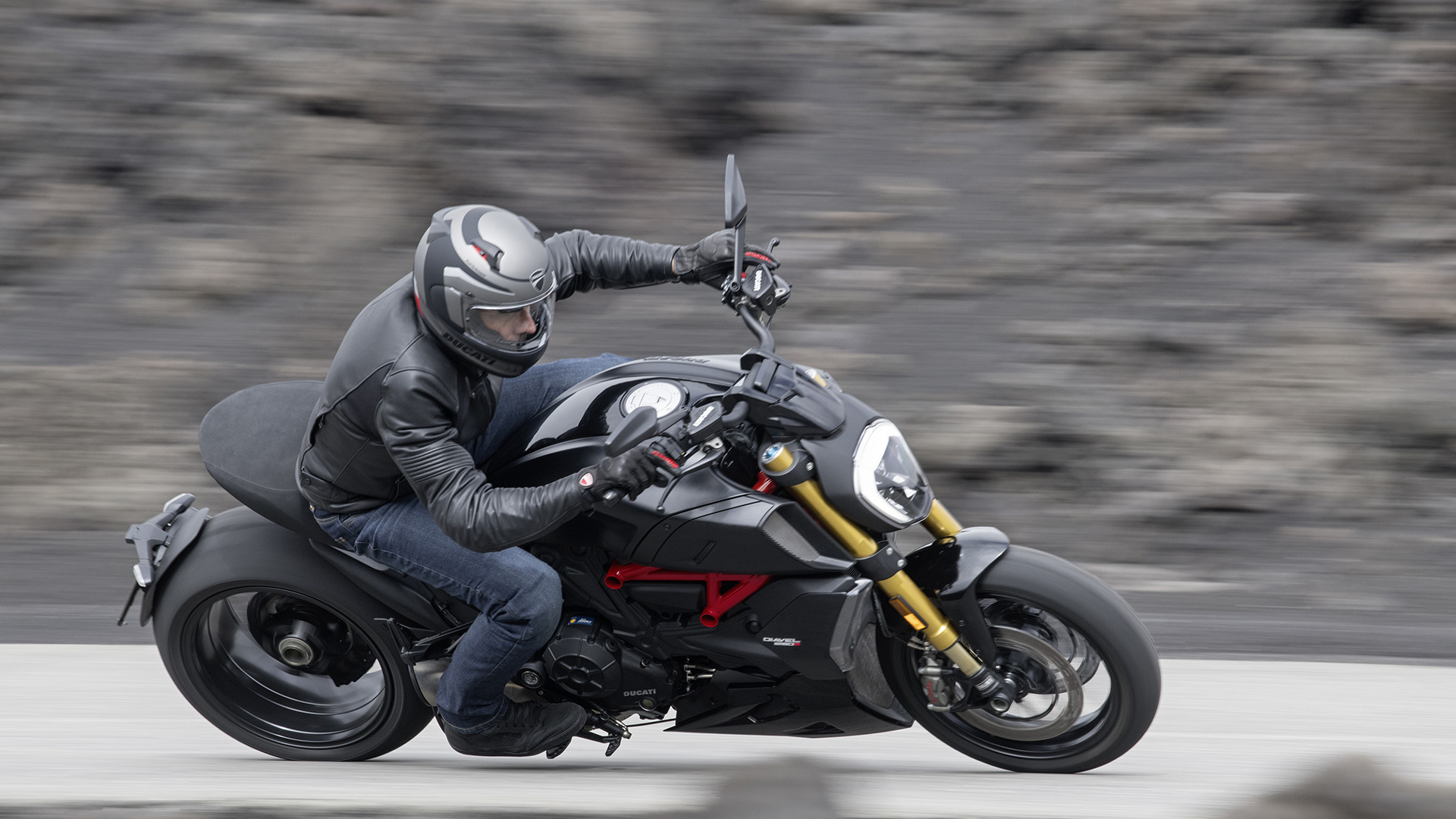 The industry-leading muscle cruiser from Ducati is back for 2023. There aren't many upgrades to the Diavel line for this year. The regular Diavel still has a modern, athletic build, but it is also agile and sporty.
The Testastretta DVT 1262 engine is the key to the Diavel's continued success. It is a 1262 cc twin-cylinder engine with a powerful 159 hp and 95 lb-ft of torque. It has a contemporary Ride-by-Wire system, two exhaust pipes, three riding modes, three power modes, and a Desmodromic variable valve timing system. Additionally included as standard equipment are traction control, wheelie control, cornering ABS, and a full LED lighting system.
2023 Color: Dark Stealth
2023 Ducati Diavel 1260S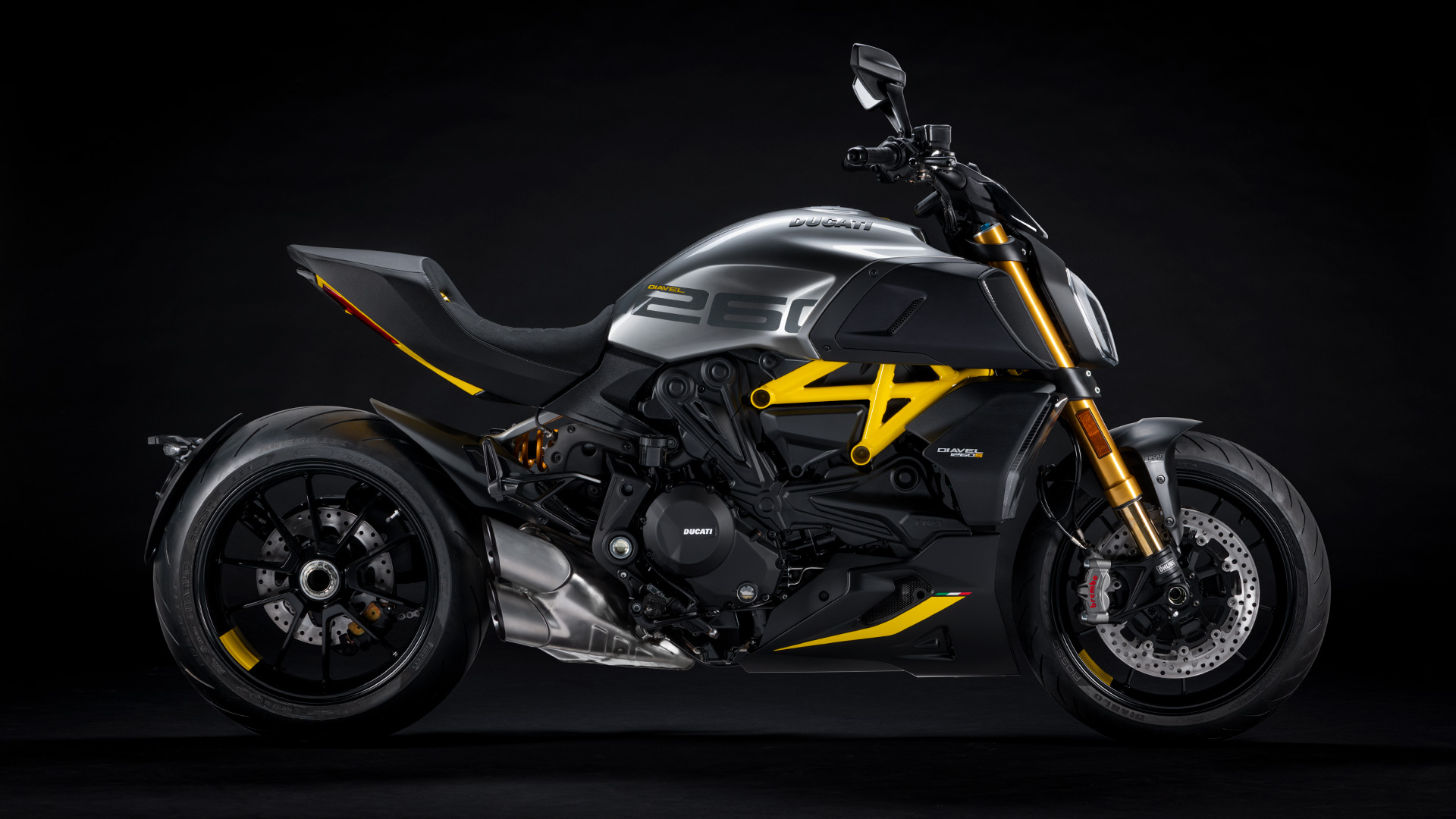 For those seeking a slightly more refined muscular cruiser feel, there is the 2023 Ducati Diavel 1260 S. Although it has virtually exactly the same genetic makeup as the normal Diavel 1260, it has a number of unexpected features that set it apart from the original model. If you were anticipating a more potent engine, you would be mistaken. The desmodromic 1262 cc two cylinder engine that powers the Diavel 1260 continues to produce the same 157 horsepower and 95 lb-ft of torque.
The adoption of Ducati's Quick Shift (DQS) technology as a standard is the primary distinction between the two variants. It's a bi-directional technology that makes shifting without a clutch simple and enjoyable, especially in stop-and-go traffic. Naturally the Diavel S has unique colorways.
2023 Color: Black and Steel, Total Black
2023 Ducati XDiavel
2023 Ducati XDiavel Dark / S / Nera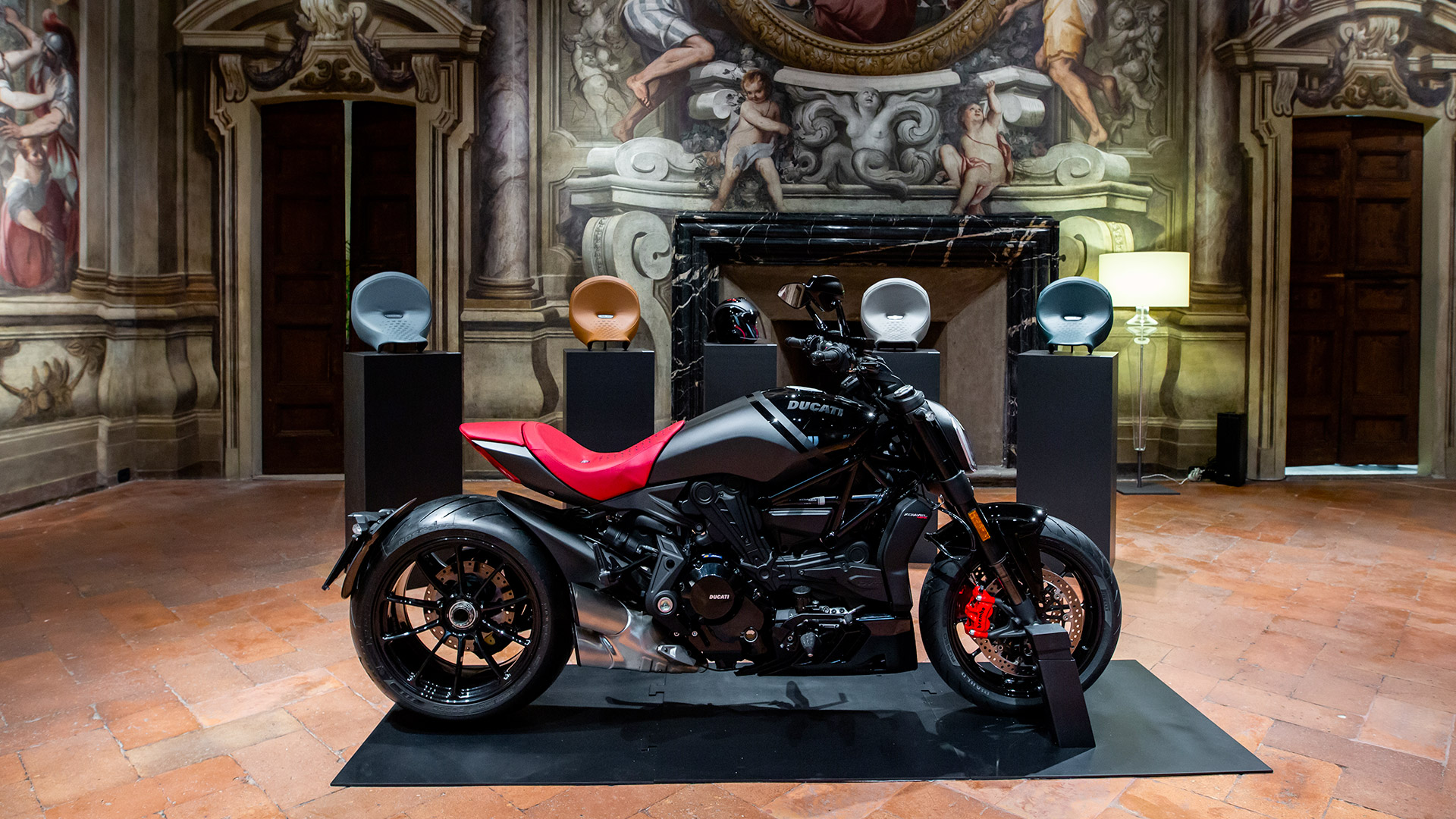 The XDiavel offers a relaxed riding position, characterized by a low seat and advanced footpegs, offering riding ergonomics that allow a relaxed and comfortable ride at any speed.
The Testastretta DVT 1262 twin-cylinder engine delivers a maximum power output of 152 hp at 9,500 rpm and a maximum torque of 92.9 lb-ft at 5,000 rpm. Approximately 80% of the maximum torque of the XDiavel is almost immediately available: at 2,100 rpm.
Of course, the electronics package is superb with Riding Modes, Power Modes, Cornering ABS, Ducati Traction Control, and a full-LED lighting system.
New for 2023, the XDiavel Nera will be produced in a limited-edition numbered series of 500 units. The serial number is engraved on a dedicated plate on the trellis frame. The Pelle Frau® special seat, a soft natural leather saddled by hand and the product of years of research by Poltrona Frau, is the most distinctive feature of the XDiavel Nera. It comes in five distinct colors—Siam Red, Steel Blue, Cemento, India, and Selva—and is personalized with a series of "X"s that are engraved using an advanced laser process to evoke the bike's name.
2023 Color: Dark Stealth(Dark), Thrilling Black(S), Black on Black with 5 saddle colors available (Nera)
XDiavel Dark MSRP: $21,495 USD / $24,195 CDN
XDiavel S MSRP: $26,395 USD / $29,695 CDN
XDiavel Nera MSRP: $29,795 USD / $33,895 CDN
More info @ Ducati
2023 Ducati Hypermotard
2023 Ducati Hypermotard 950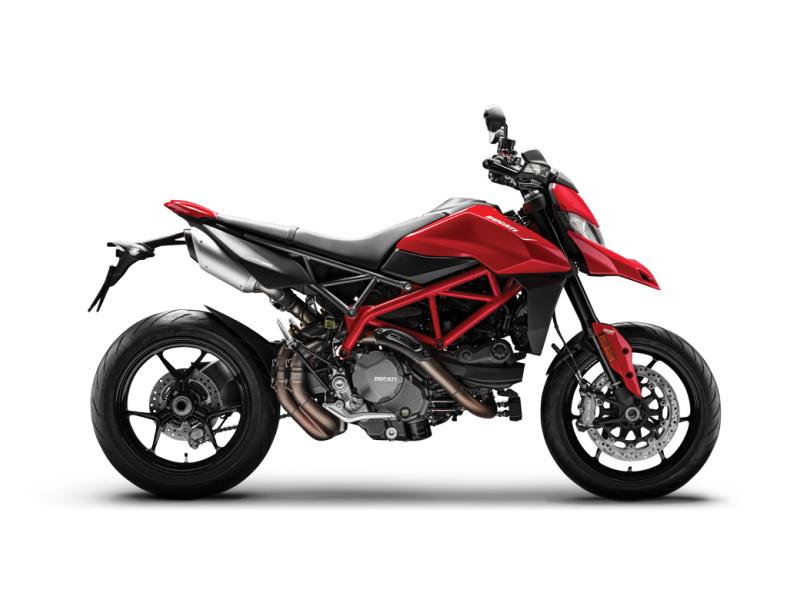 The standard Hypermotard 950 is back for 2023. This cool hooligan machine offers exceptional sports performance, incredible handling, and a ride experience like no other. It's sharp, nimble, and lightweight in nature, but don't be fooled by its spartan aesthetic, because it packs a powerful punch.
Under the hood, the Ducati Hypermotard 950 features a 937 cc twin-cylinder Ducati Testastretta 11-degree engine. It's a powerful engine that produces an impressive 114 horsepower and 71 lb-ft of peak torque. It also features a vast array of top-level riding aids, including Riding Modes, ABS Bosch Cornering EVO, Ducati Traction Control (DTC) EVO, Ducati Wheelie Control (DWC) EVO, Power Modes, Day Time Running Light (DRL), Tapered aluminum handlebars, Removable passenger footpegs, and USB power socket. It's the ideal motorcycle to channel your inner mischief-maker.
2023 Color: Ducati Red
2023 Ducati Hypermotard 950 RVE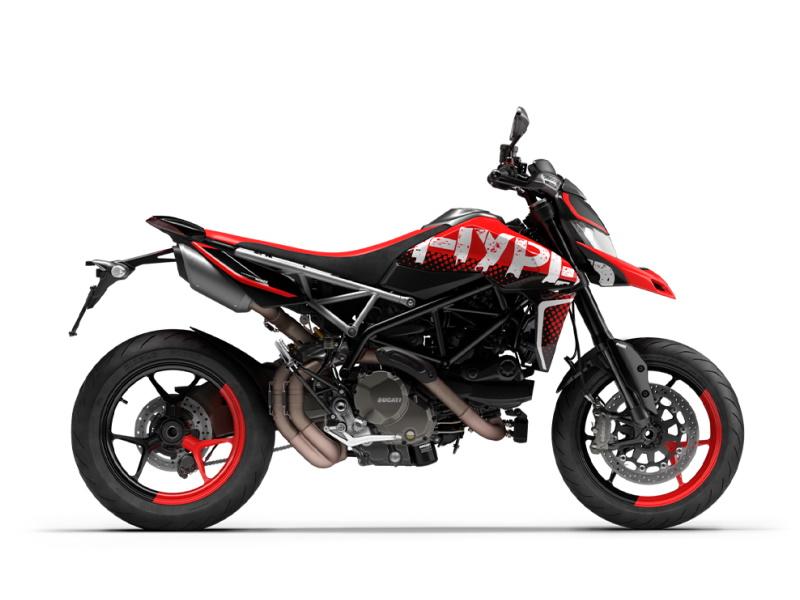 The 2023 Ducati Hypermotard 950 RVE offers all the awesomeness of the standard Hypermotard 950, with 2 distinct additions
The 937 cc twin-cylinder Ducati Testastretta 11-degree engine is unchanged, as is the fantastic tech package. The RVE adds Ducati Quick Shift (DQS) EVO up/down and unique RVE Livery called Graffiti. Now you can look even more badass while making mischief.
2023 Color: Graffiti
2023 Ducati Hypermotard 950SP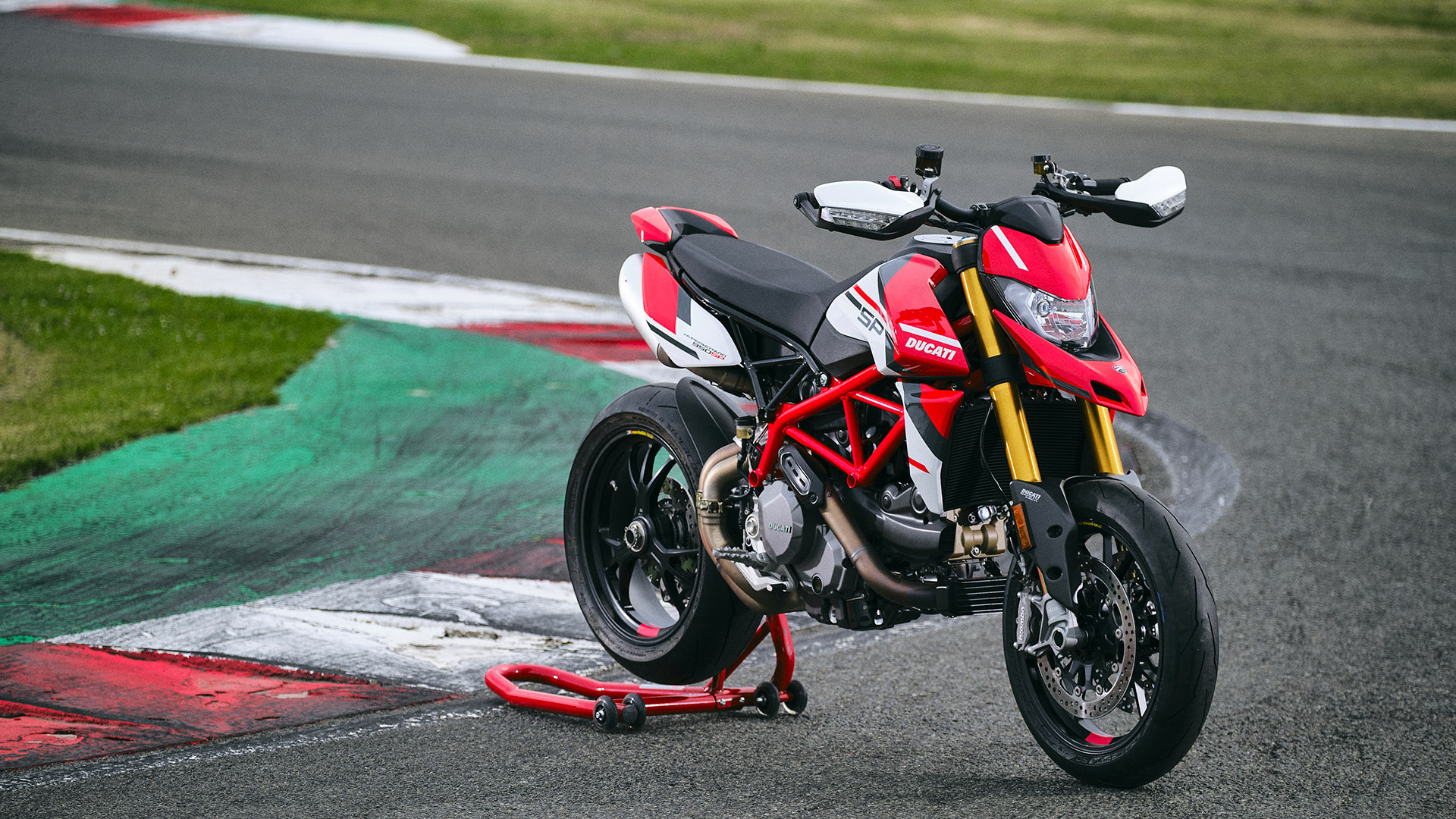 The Hypermotard 950 SP is $3,600 more expensive than the 950 base model. You receive the exact chassis, the same 440-pound weight, and the Testastretta L-twin engine from the base model, which produces 114 horsepower and 71 ft lbs of torque. Forged Marchesini aluminum wheels, Öhlins 48 mm, fully adjustable fork and shock, a carbon-fiber front guard and timing-belt cover, and the Ducati Quick Shift EVO system for clutch-free up-and-down gearshifts are what the extra dollars gain you. Trust me, the extras are well worth it.
2023 Color: SP Livery
2023 Ducati Monster
2023 Ducati Monster Plus / Monster SP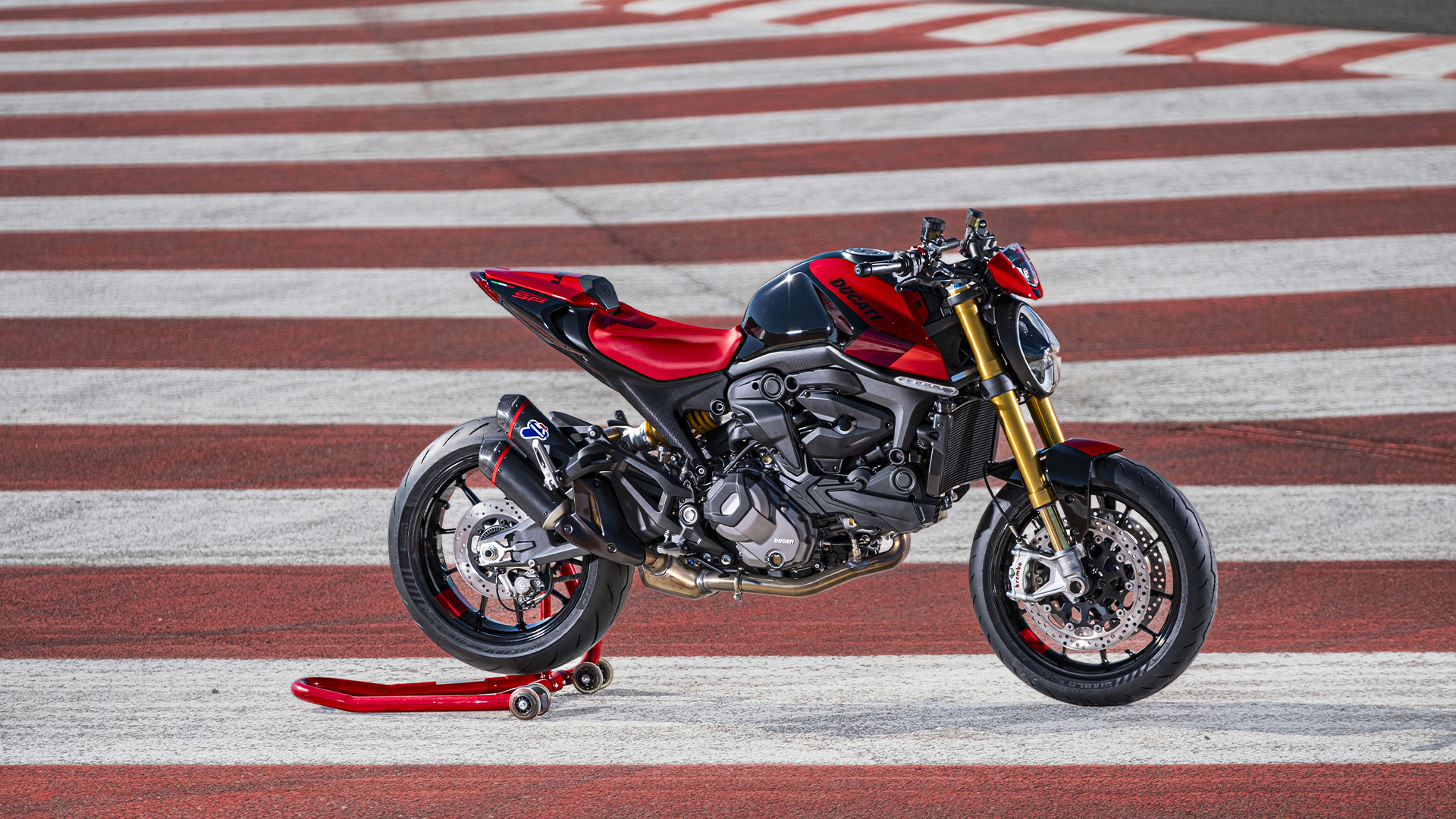 The Monster SP is the big news for the Monster family in 2023. Sharing the same 937cc 90-degree V-Twin with 111 hp at 9,250 rpm and 69 lb-ft of torque at 6,500 rpm, both bikes also come equipped with Ducati Quick Shift, Ducati Power Launch, 4.3″ TFT color display, Full LED headlight and lighting system, Dynamic turn indicators, USB power socket, Flyscreen, Passenger seat cover.
What sets the Monster SP apart are the Öhlins NIX30 fork and Termignoni homologated silencer, Brembo Stylema® front calipers, and Pirelli Diablo Rosso IV tires. Plus the SP livery matches the 2022 colors of the official team's Desmosedici GP. Ducati notes that they also add a lithium-ion battery, which brings the overall weight saving to about 2 kg. But the listed weights of all Monster models come in at 366kg.
On a side note, yes there is still a standard Monster, although it is not really featured on the Ducati website. It is a few hundred dollars less and does away with the small windscreen.
2023 Color: Ducati Red, Aviator Grey, Dark Stealth
Monster SP MSRP: $15,595 USD / $18,295 CDN
Monster Plus MSRP: $14,695 USD / $14,395 CDN
More info @ Ducati
2023 Ducati Streetfighter
2023 Ducati Streetfighter V2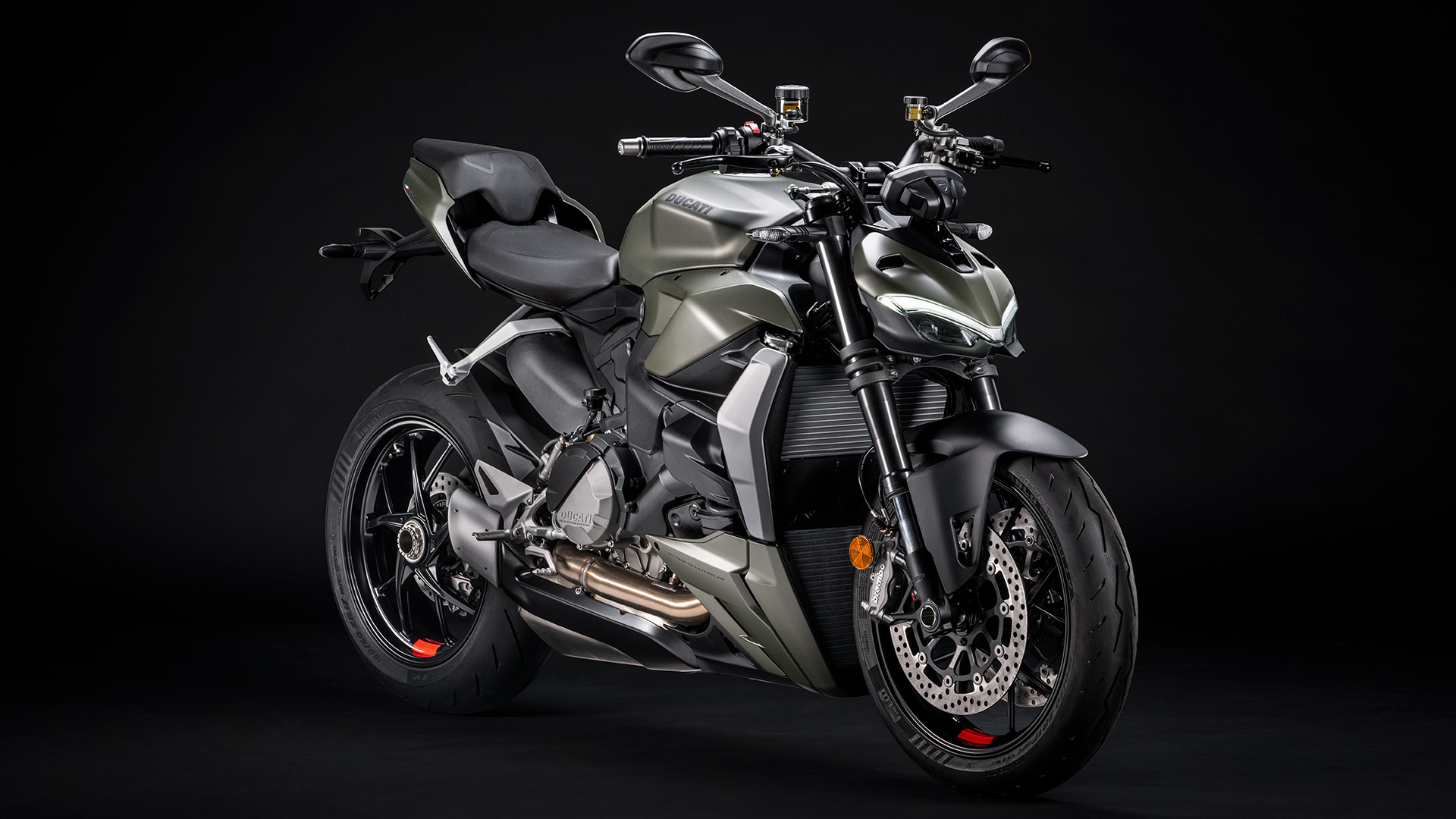 Ducati has not changed much with the excellent Streetfighter V2, except for adding a stunning new colorway! The new Storm Green paint job adds a whole new stealthy element that further makes it distinguishable from its larger siblings.
The Streetfighter V2's 955 cc Superquadro twin engine has a maximum output of 74.8 lb-ft of torque at 9000 rpm and 153 horsepower at 10,750 rpm. The three pre-set Ducati Riding Modes—Wet, Road, and Sport—allow users to tailor their motorcycle's behavior to their own riding preferences as well as the various road conditions. Each Riding Mode corresponds to a unique configuration of the control parameters. The user can instantly alter the engine souls and the electronic controls by choosing from the available options.
The Sachs shock absorber and the 43 mm Showa BPF front fork have been specially calibrated to increase the bike's comfort on the road while also making it simple to alter for a whole new level of pleasure on the racetrack.
2023 Color: Ducati Red and Storm Green
Streetfighter V2 MSRP: $17,495 USD / $19,395 CDN
More info @ Ducati
2023 Ducati Streetfighter V4 / V4S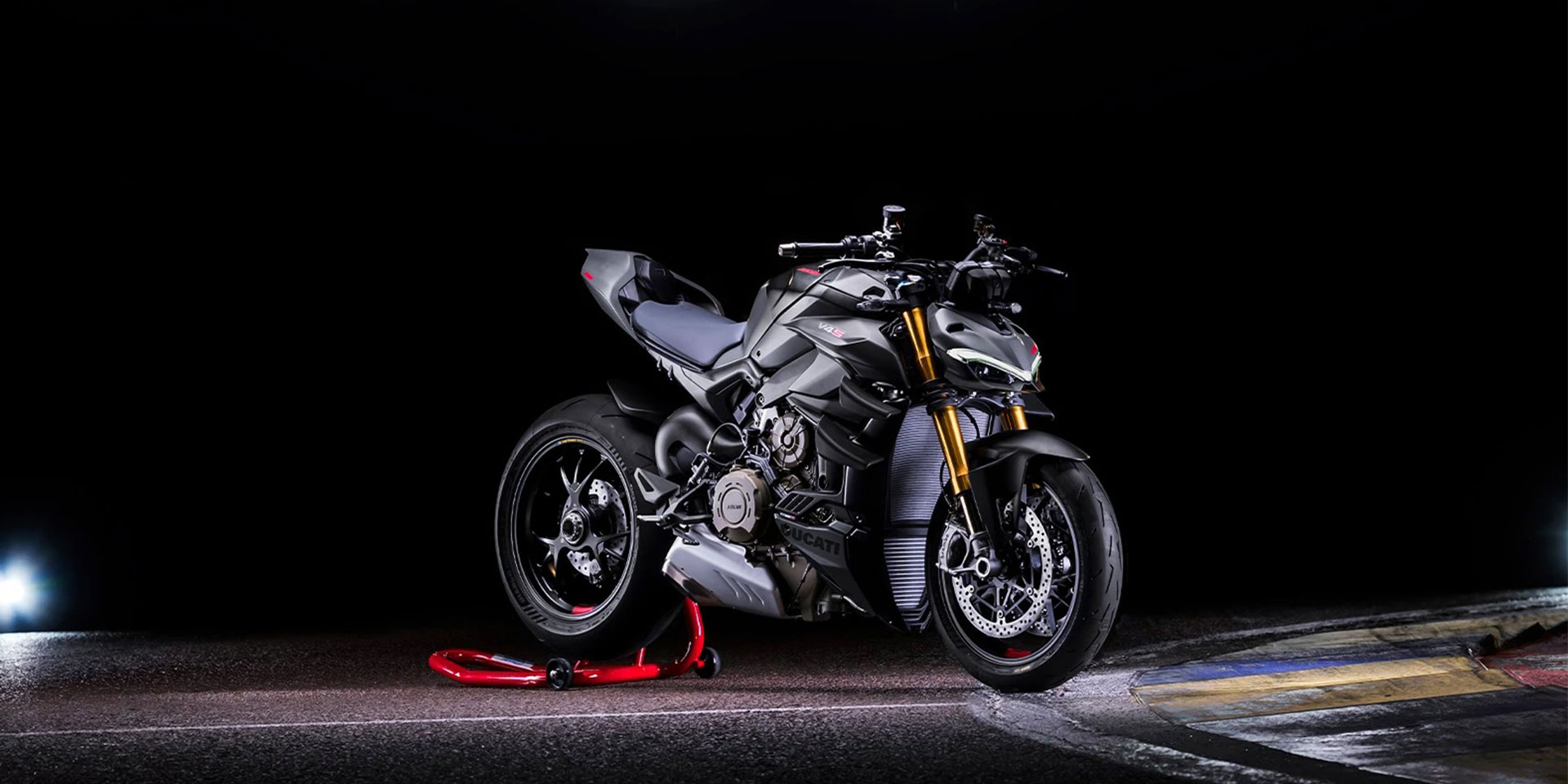 Three variations of the updated 2023 Streetfighter V4 are available: the standard Streetfighter V4, the Streetfighter V4 S, and the Streetfighter V4 SP2. Given their shared heritage, it only makes sense that they all share the key technical advancements of the 2023 Panigale V4. The new Streetfighter is essentially a 2023 Panigale V4 with its fairing removed, a taller, broader handlebar in place of the clip-ons, biplane winglets, and Ducati's most recent electronics package. 2023 sees the introduction of the brand-new Wet Riding Mode to make riding even safer on low-grip surfaces.
The Streetfighter V4S receives a complete Öhlins suspension upgrade: Software called Öhlins Smart EC 2.0 event-mode electronically controls the fork's 43mm NIX 30 and shock's TTX 36. It also has Marchesini three-spoke forged aluminum wheels. A lithium-ion battery for the S version is now standard and represents about a 4lb weight savings.
2023 Color: Ducati Red, Grey Nero
V4 MSRP: $22,095 USD / $24,695 CDN
V4S MSRP: $27,795 USD / $28,995 CDN
More info @ Ducati
2023 Ducati Streetfighter V4 SP2
Pushed even further into the realm of insanity, the newest track focused Streetfighter evolves and is now the SP2. The Streetfighter V4 SP2 is even more effective in sports riding, especially on the track, thanks to the unique technical equipment that combines the "Fight Formula" and the "SP" standards.
The Brembo Stylema R® front brake calipers ensure strong stopping power and remarkably consistent performance, even under heavy track use.
The Streetfighter V4 SP2's premium wheels, which have five split spokes and are made of high-strength carbon fiber, are screwed to the composite body. These weigh 7.5 pounds less than the V4 model.
The 9-disc STM EVO-SBK dry clutch used in the 90° V4 of the Streetfighter V4 SP2 is composed of billet aluminum. When riding the bike aggressively on the track, the dry clutch ensures a more effective slipper function, even during the most severe downshifts, as opposed to the Streetfighter V4 S's oil bath clutch.
The dashboard graphics have been updated in all perspectives to simplify and better describe the information and assist the enthusiast in calibrating the various settings.
Wet, Full Power, and Low Power are the three brand-new riding modes. With its lightning-fast throttle response, Full Power is the craziest of the bunch. Low Power setting reduces horsepower and brings the situation closer to sane! For riding on slippery areas, or more specifically, wet roads, use the Wet Riding Mode.
2023 Color: Winter Test livery
2023 Ducati Streetfighter V4 Lamborghini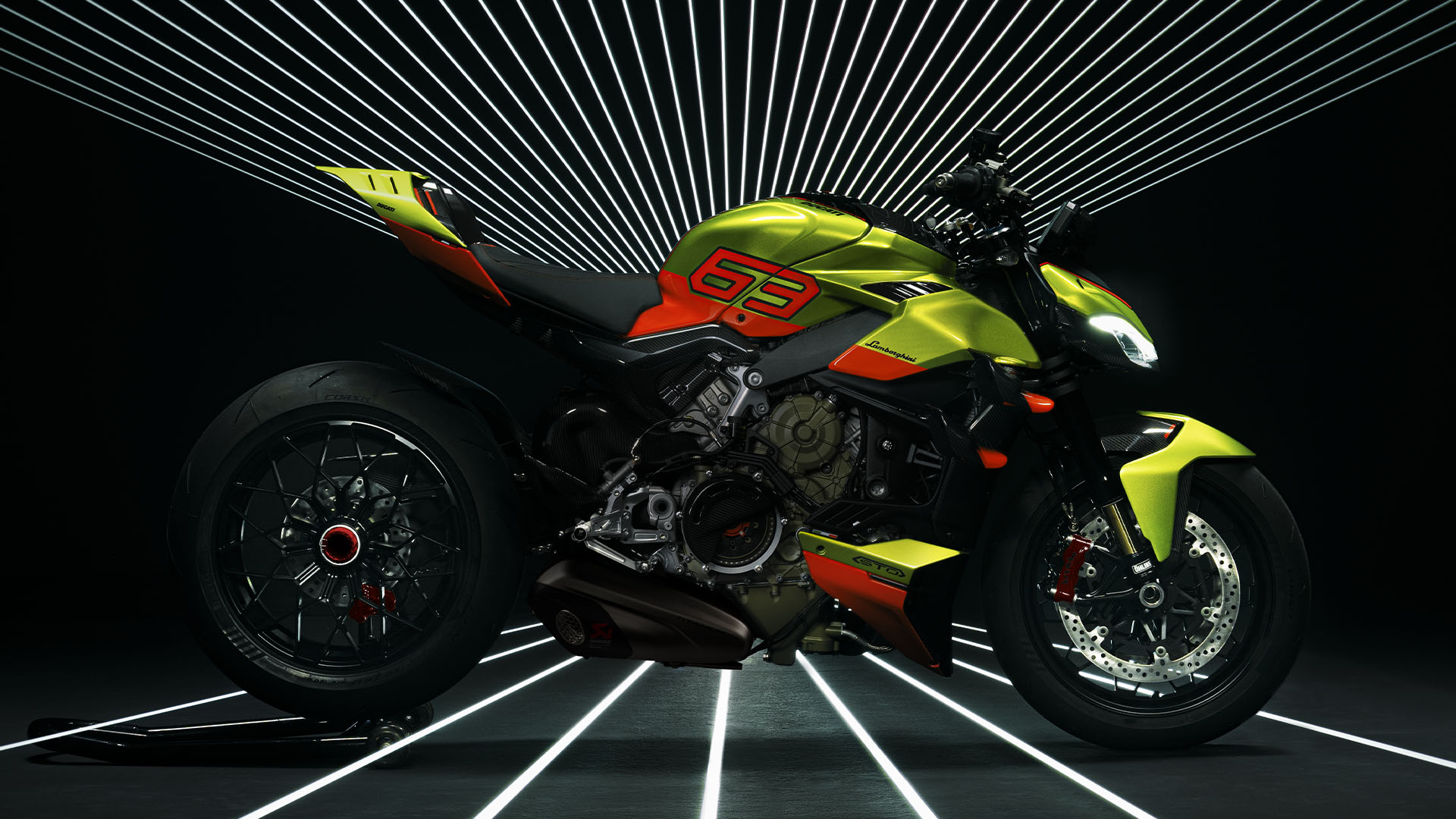 The new Ducati Streetfighter V4 Lamborghini is the result of the second chapter of a partnership between two companies that have helped shape the history of Motor Valley. It features a customized livery and a newly created dressing that pays homage to the iconic Lamborghini Huracán STO.
The colors used for the bike are exactly the same as those used for the Huracán STO, with a base in "Citrea Green" and contrasting parts in "Dac Orange." The characteristic STO logo and the number 63, which refers to the year Lamborghini was formed, are displayed on the livery. The Ducati Streetfighter V4 Lamborghini has several elements that are enhanced by the use of carbon fiber, and the Huracán STO-inspired rim design is improved by the inclusion of the titanium locking nut on the rear rim.
A titanium and carbon fiber Akrapovic exhaust, billet footpegs from Rizoma, a dry clutch cover made of carbon fiber, lightened levers, and a lot more carbon fiber modifications. Block-off plates for the mirrors and license plate hanger, a racing gas cap, and a color-matched cover are included in a kit for track days.
A total of 630 units, including 63 Speciale Clienti models that let buyers tailor the livery to their own Lamborghini, will be produced, according to Ducati. The model name and serial number will be displayed on a distinctive plate on the tank of every Ducati Streetfighter V4 Lamborghini and Speciale Clienti motorcycle. In case you forget which number bike you own, the dash flashes the series number on startup.
2023 Color: Verde Citrea/Arancio Dac or Speciale Clienti
2023 Ducati Multistrada
2023 Ducati Multistrada V2 S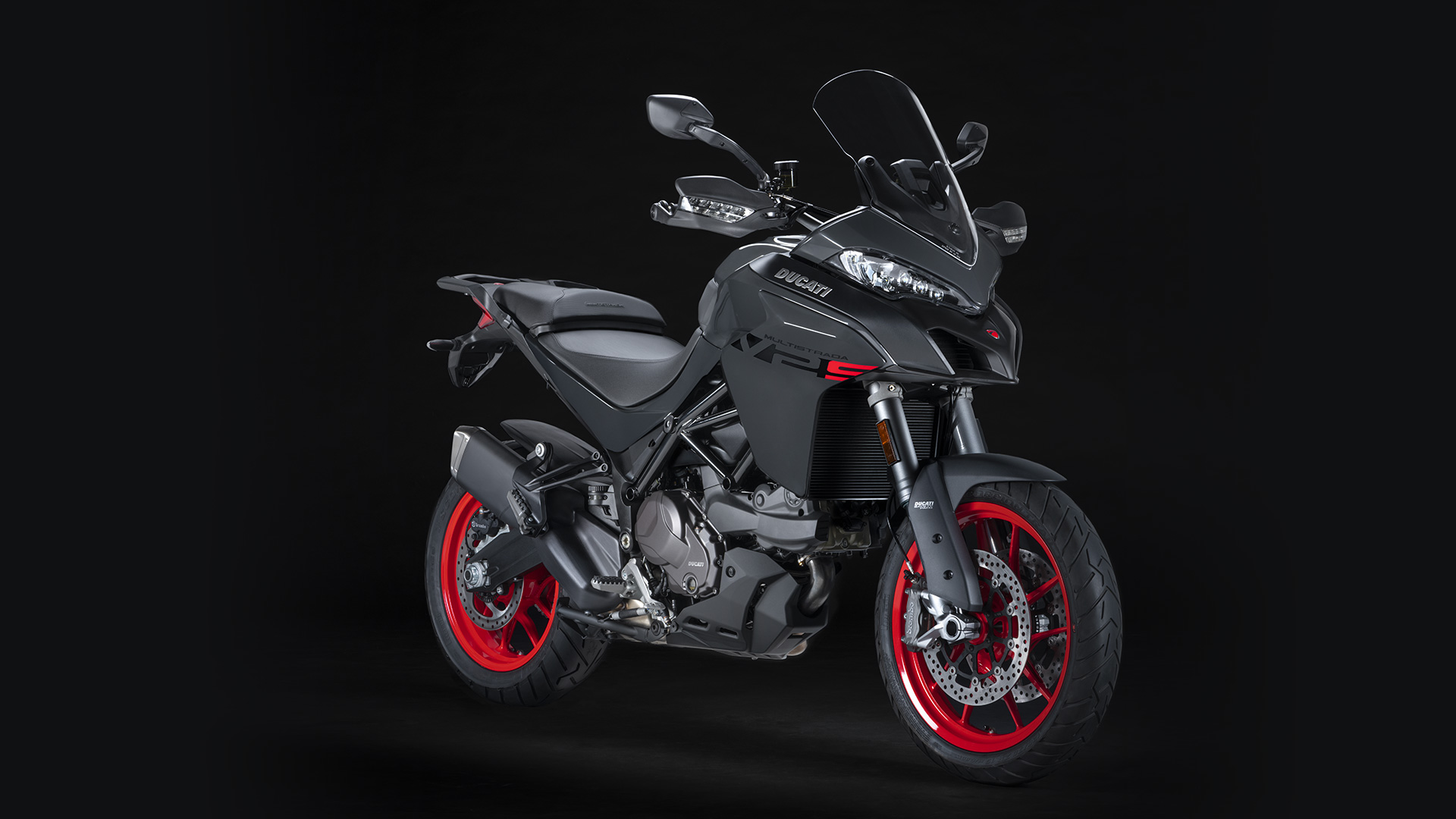 The 2023 Ducati Multistrada V2 S is powered by 113 horsepower from a twin-cylinder unit that has been modified in the gearbox and clutch to ensure smoother and more precise operation. It is based on the most recent iteration of the 937cc Testastretta 11° engine.
Equipped with the most modern electronics, Riding Modes, Power Modes, Cornering ABS, Ducati Traction Control, Ducati Brake Light, and Vehicle Hold Control, the latest generation of driver assistance systems are effective and never invasive, ensuring safety and comfort in every condition.
The headlight is fully LED and has the Ducati Cornering Lights (DCL) function, which adjusts the lighting of the road when the motorcycle is turning dependent on its angle.
The Ducati Skyhook Suspension EVO semi-active suspension system, which is built on a 48 mm SACHS fork and a SACHS rear shock, is also used on the Multistrada V2 S.
2023 Color: Ducati Red, Street Grey
2023 Ducati Multistrada V4 S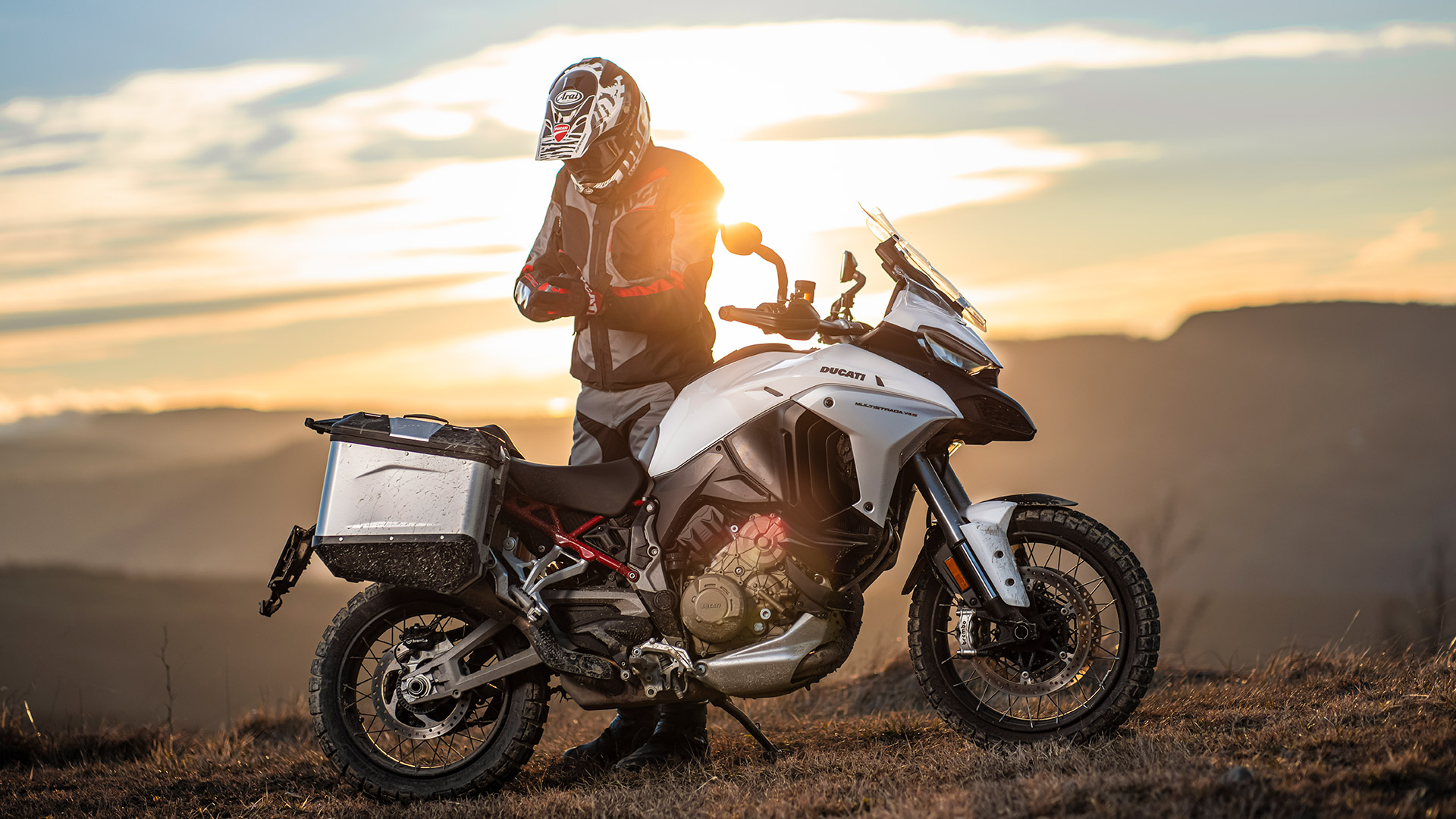 The smooth delivery of the 170 HP Granturismo V4 engine, the innovative chassis and ergonomic solutions, the most cutting-edge Ducati electronics, and the first front and rear radar system on motorcycles in the world make for the most enjoyable, adaptable, and intuitive riding experience ever in the 2023 Multistrada V4S.
Ducati has made a lot of technological advancements to respond to the needs of the rider, whether those needs are focused on comfort or the need for a livelier ride. These options include the auto-leveling system, which adds to the (manual) options already available to the user: rider, pilot plus panniers, pilot and passenger, and pilot and passenger with panniers. It recognizes the bike's load setting and adjusts it automatically to bring the saddle to the ideal height from the ground in the different riding configurations.
The exclusive Ducati Skyhook semi-active suspension system, with its 400 possible configuration combinations, the 4 riding modes to customize the delivery and power of the bike according to your wishes, or the latest Ducati Quick-Shift, the Multistrada V4 S continues to be the ultimate Adventure touring machine.
2023 Color: Ducati Red, Aviator Grey, Iceberg White plus a choice of Alloy or Spoked rims
2023 Ducati Multistrada V4 Pikes Peak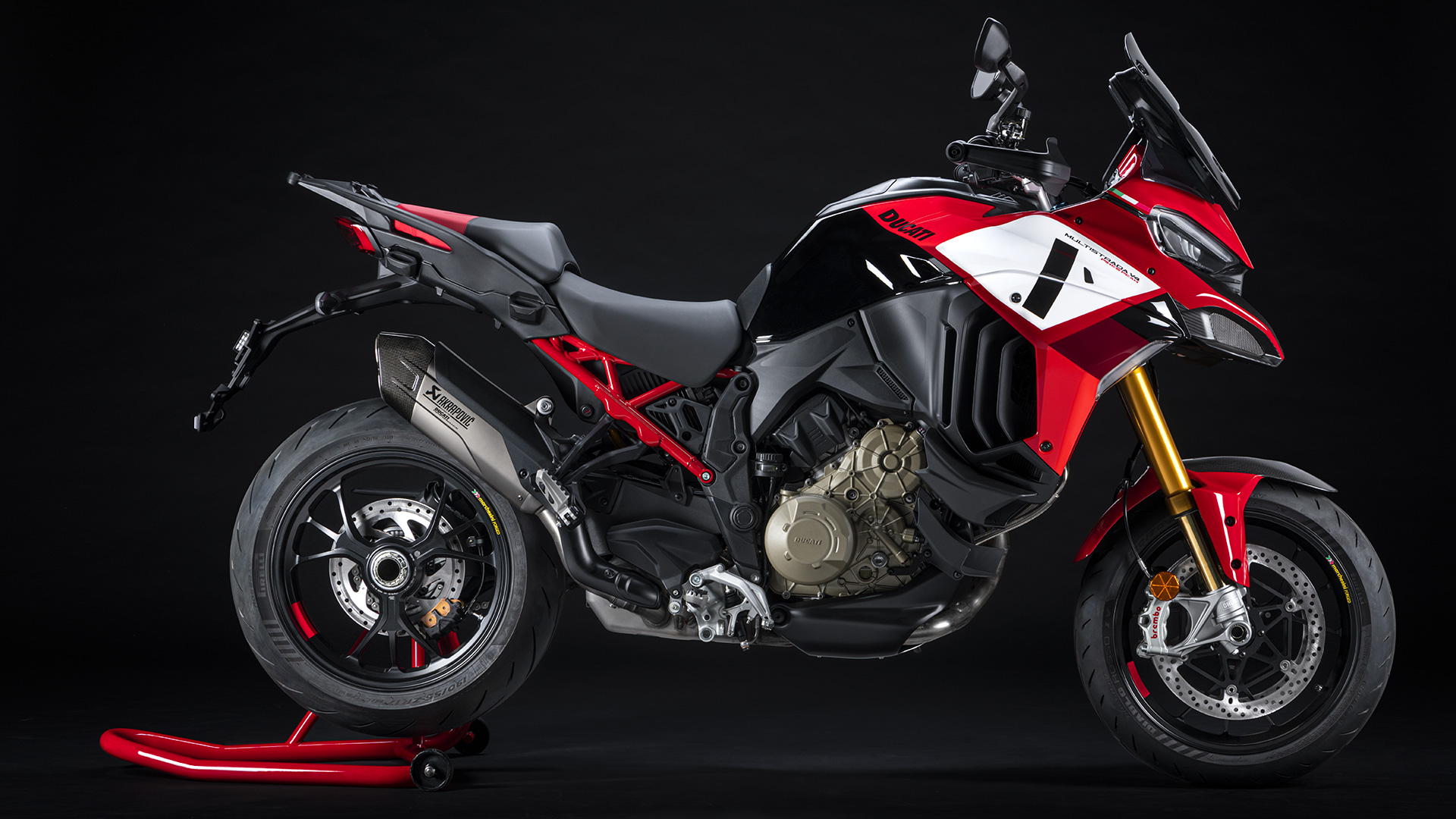 This is the model that had all the hype in the 2022 Multistrada family. Scrapping off-road duties for pure corner carving, Sport Touring goodness, the 2023 Multistrada V4 Pikes Peak is sure to excite.
Developed to bring the sporty qualities of the Multistrada V4 S to the extreme, a dedicated riding position, 17″ wheels with sports tires, a single-sided swingarm, Öhlins suspension, and the new Race Riding Mode turn the V4 into a bike that is sharp, precise and effective even on the track.
2023 Color: Pikes Peak Livery
2023 Ducati Multistrada V4 Rally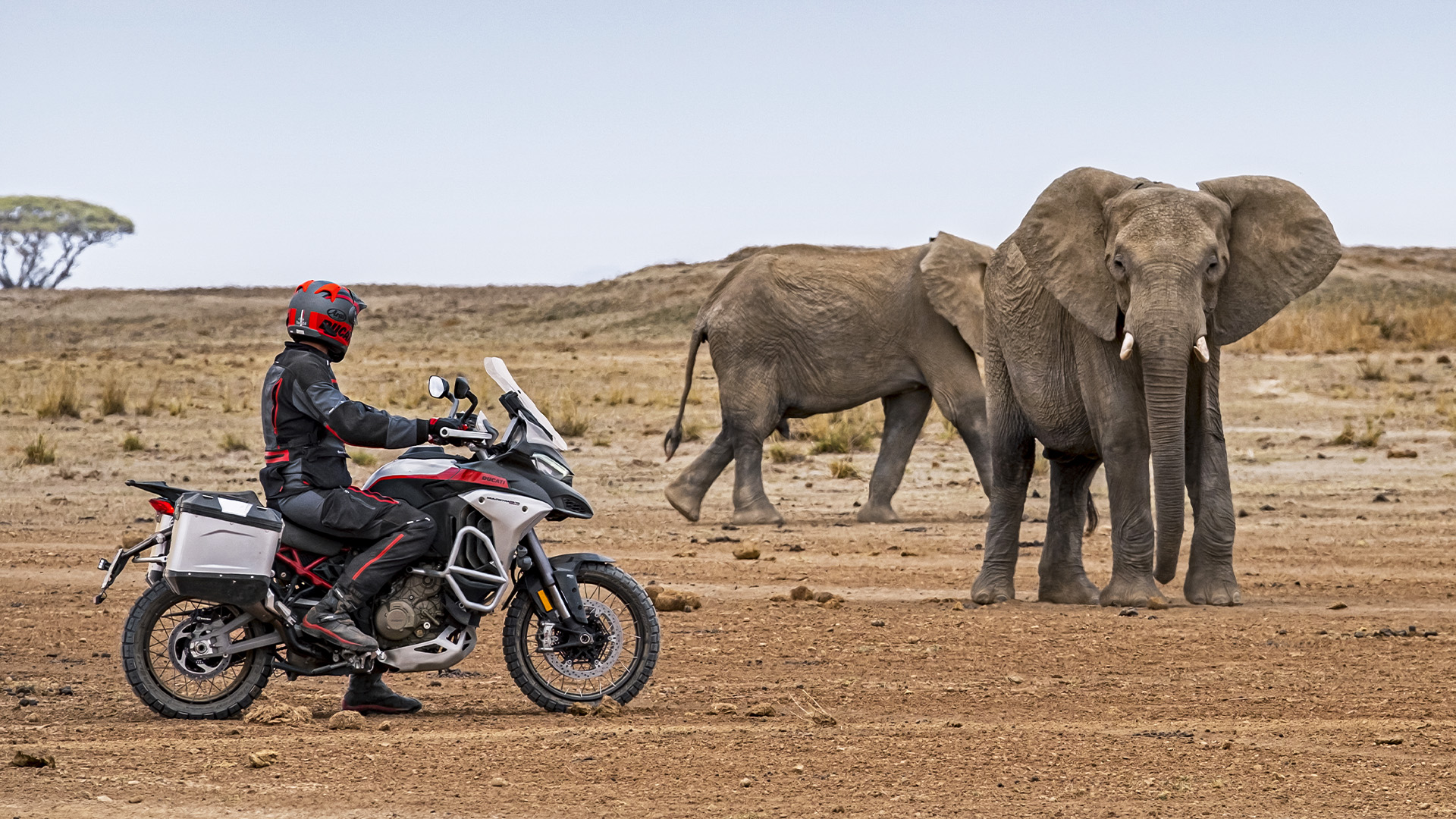 This all-new Multistrada V4 aims to be the most dirt worthy of all Adventure Touring premium machines.
Both the frame and engine are closely related to those in the latest-generation Multistrada V4. Closely is not the same, though. New cams and a new ECU are added to the V4 Rally edition to produce a fatter torque curve starting at roughly 3,000 rpm for improved dirt performance. Ducati also incorporated the ability to deactivate rear cylinders while moving. This should improve overall fuel economy and range. The Rally, according to Ducati, is the first motorbike in production to have this feature.
New Skyhook DSS EVO suspension with travel increased to 7.9 inches, Auto-Levelling, Minimum Preload, and the suspension lowering kit are standard on the Rally. Ducati offers some of the most comprehensive electronics available including, front and rear radar with Adaptive Cruise Control and Blind Spot Detection, as well as dedicated riding modes with the new Off-Road Power Mode that limits power to 115 hp.
The bike's front end has been completely redesigned as a result of the bigger 7.9-gallon tank, which increases range. Even though they are not any higher, the 'shoulders' are more strong and offer better ergonomics.
If your Adventure Touring is more dirt than pavement, the Rally is the Multistrada V4 model to choose.
2023 Color: Ducati Red, or Brushed Aluminum & Matte Black
2023 Ducati Panigale
2023 Ducati Panigale V2 / V2 Bayliss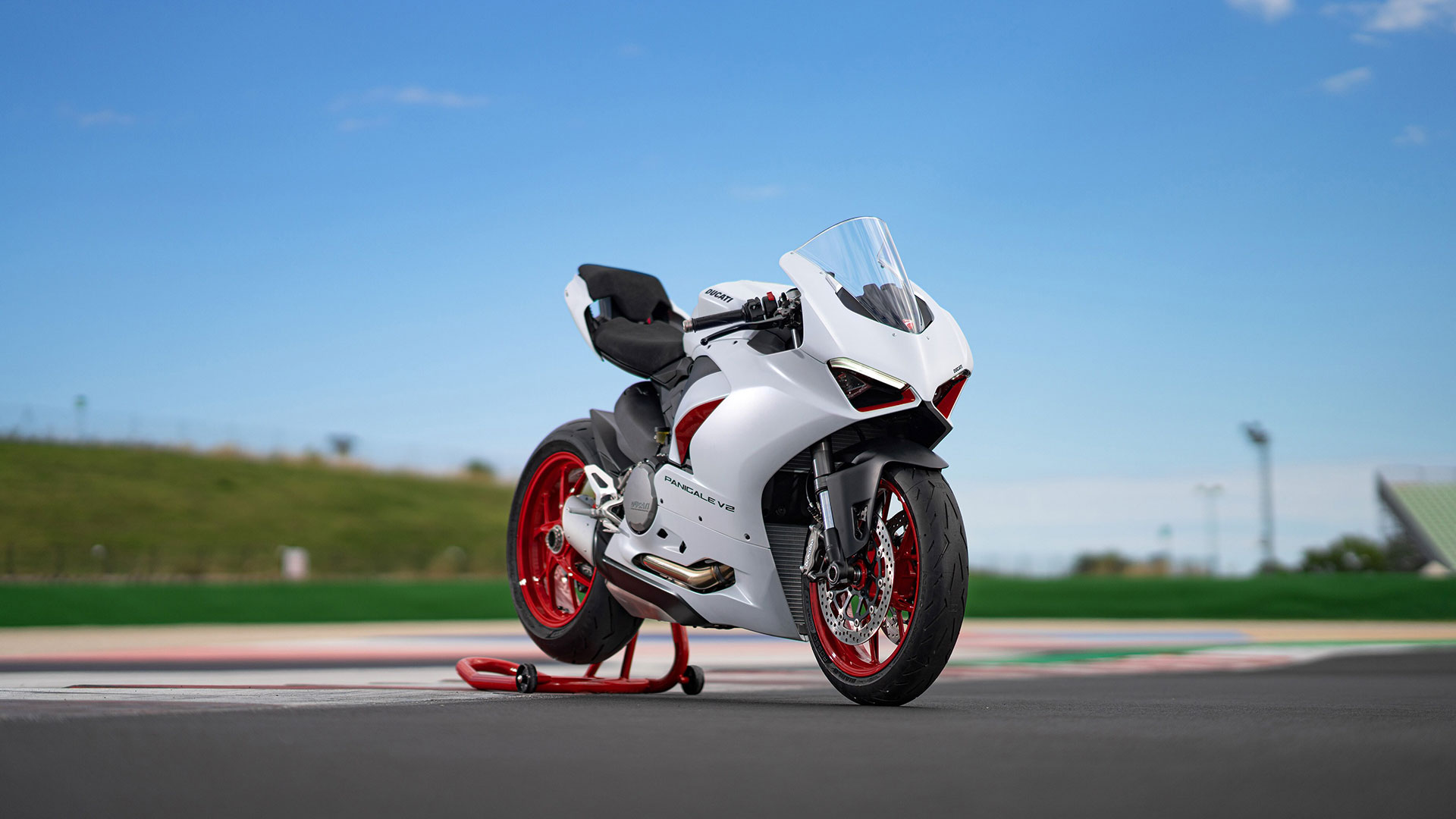 Unchanged from last year, the Panigale V2 features a single-sided aluminum swingarm that is the distinguishing element of every high-end sports Ducati. The large fairing makes the smaller twin-cylinder Superquadro engine—which is smaller than the Desmosedici Stradale engine—stand out, making the bike appear slimmer and less threatening than the Panigale V4.
This twin-cylinder engine provides power smoothly and pleasurably on the road with a maximum output of 155 horsepower at 10,750 rpm and a torque of 104 Nm at 9,000 rpm. The Panigale V2's front brakes use two M4.32 Brembo monobloc calipers, biting 320 mm discs, and the rear brakes use a single M4.32 Brembo caliper, biting a 245 mm disc.
The new Panigale V2 Bayliss 1st Championship 20th Anniversary honors Troy Bayliss, one of the greatest riders of all time and the representative of an entire neighborhood. a unique motorcycle that was produced in numbered batches. One of the most successful racing teams in history was Ducati-Bayliss, with 52 victories, 94 podium finishes, and three World Superbike Championships. Due to the usage of a lithium-ion battery and the decision to choose a single-seater configuration that explicitly mimics the appearance of the famed race bike, the Panigale V2 Bayliss 1st Championship 20th Anniversary weighs more than 6.5 lbs less than the Panigale V2.
2023 Color: Ducati Red, White Rosso Livery, Bayliss Special Livery
Panigale V2 MSRP: $18,095 USD / $19,995 CDN
Panigale V2 Bayliss MSRP: $21,495 USD / $24,195 CDN
2023 Ducati Panigale V4 / V4 S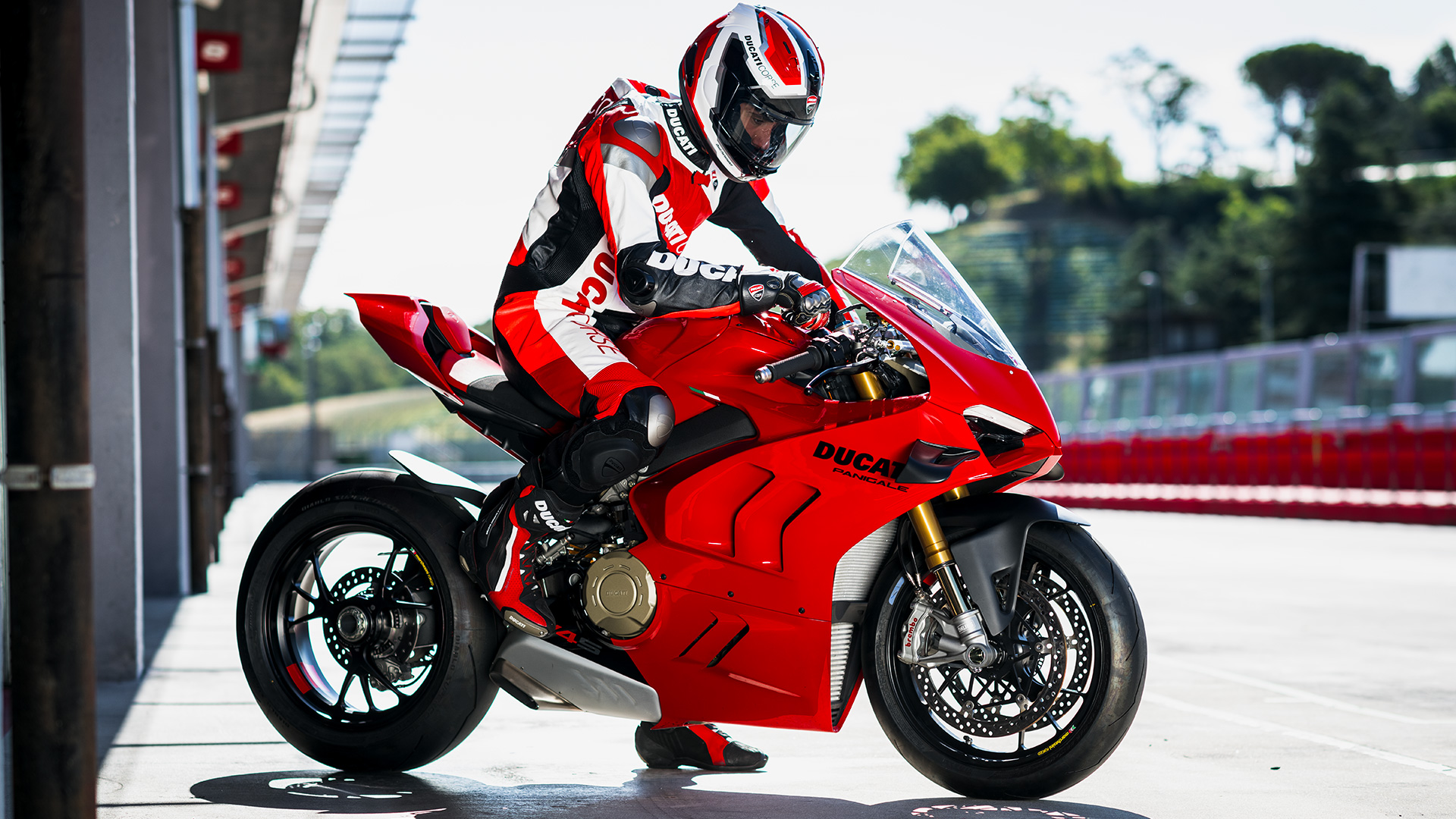 The 2022 Ducati Panigale V4 and V4 S received the most thorough update yet, with revisions to the aerodynamics, ergonomics, engine, chassis, and electronics. Coming into 2023 there is not much that needed attention.
The bike's 1,103 cc 90° V4 Desmosedici Stradale MotoGP engine serves as its brain. The engine can produce 90.6 lb-ft of torque at 11,000 rpm and 210 horsepower at 12,500 rpm. Four engine configurations are offered by Ducati's top-tier electronics package: Full, High, Medium, and Low.
The renowned aluminum Front Frame is directly attached to the Desmosedici Stradale, a stressed component of the chassis. The front frame composed of lightweight magnesium and the seat post made of shell-cast aluminum round out the chassis.
The Panigale V4 standard version includes a superb chassis, a 43 mm diameter fully adjustable Showa Big Piston Fork, a fully adjustable Sachs steering damper, a fully adjustable Sachs monoshock, and cast aluminum 5-spoke rims.
The V4 S features electronically controlled Öhlins suspension, with an NPX 25/30 fork, TTX36 rear shock, and steering damper. And it rolls on premium forged aluminum alloy wheels shod with Pirelli Diablo Supercorsa SP tires.
Controls for managing all riding phases are included in the electronic package, and their working settings are by default tied to the 4 possible Riding Modes (Race A, Race B, Sport, Street). An advanced 5″ full-TFT color display with high resolution controls every aspect of the Panigale V4.
2022 Color: Ducati Red
Panigale V4 MSRP: $23,895 USD / $27,195 CDN
Panigale V4 S MSRP: $30,695 USD / $34,695 CDN
More info @ Ducati
2023 Ducati Panigale V4 SP2
You can legally ride the Panigale V4 SP2 on the street, but the bike will hate you, this is a track weapon.
Ducati enhanced the V4 S with some very exclusive upgrades. Instead of the standard oil-bath wet clutch, the STM-Evo SBK dry clutch, which is directly derived from Ducati's World Superbike racers. Other notable features of the Panigale V4 SP2 include its reduced weight and much enhanced chassis settings. The Panigale V4 S's forged aluminum wheels are replaced with carbon ones, which significantly reduce unsprung mass by around three pounds per wheel. The standard 17 x 3.50 front and 17 x 6.00 rear wheels remain in place, along with the 120/70-17 and 200/60-17 Pirelli Diablo Supercorsa tires.
The front pressurized Öhlins NPX25/30 fork of the suspension system is electronically controlled and uses a pressurized cartridge damping technology that was inspired by racing forks. Additionally, the Panigale V4 SP2 is outfitted with unique Brembo Stylema R® front brake calipers, which ensure strong braking performance and outstanding consistency of performance even over an extended timed session without affecting the brake lever's movement.
The GPS module that enables the automated Lap Time function, which provides an instant indicator of two split times of the track you are turning on, is a standard feature on the "SP2" edition.
2023 Color: Winter Test Livery
Panigale V4 SP2 MSRP: $39,500 USD / $45,595 CDN
2023 Ducati Panigale V4 R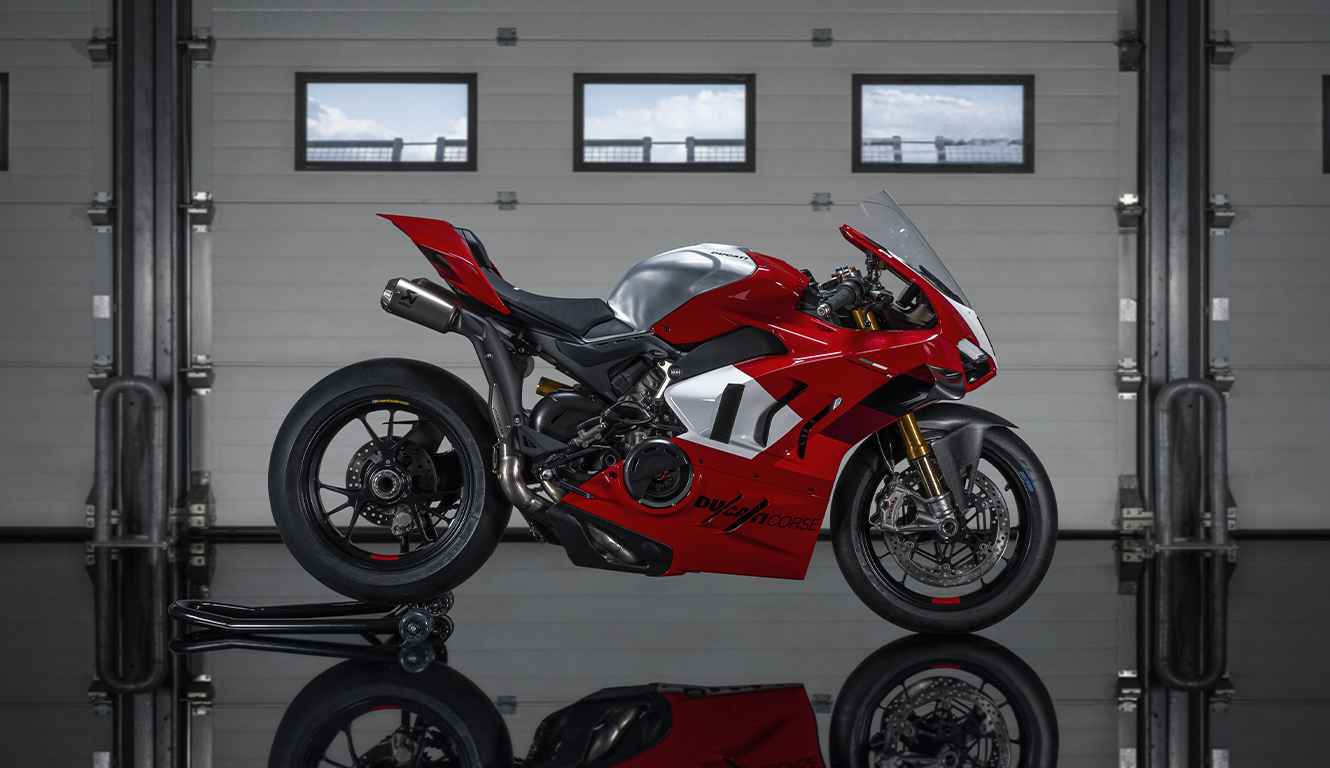 This most advanced version of the Ducati Panigale V4 engine, the new V4 R, is a huge thing for Ducati because it showcases all the knowledge the company's Engineering and Racing Departments have acquired through their work on the Desmosedici in MotoGP.
The new 998 cc Desmosedici Stradale R engine, which powers the Panigale V4 R, is capable of delivering a maximum power of 207 hp @ 13,500 rpm and a maximum engine speed of 16,500 rpm in sixth gear (16,000 in the other ratios), which are absolute benchmark values in the world of supersports bikes of the same displacement. With the help of the full race exhaust and specialized Shell Oil, the Panigale V4 R can produce 240.5 horsepower in closed course form.
The chassis maintains fully mechanical suspension adjustment while moving in the evolutionary direction shown by the Panigale V4/V4 S to boost nimbleness, rider sensation, and grip. The Öhlins NPX25/30 pressurized fork at the front has a 5 mm longer travel than the preceding "R." The rear height is increased by 20 mm using this technical approach, a Öhlins TTX36 shock absorber, and a regular swingarm pivot adjustment to the +1 position. By doing this, a higher center of gravity is attained, resulting in improved agility when entering corners and changing directions.
In racing trim the new Panigale V4 R weighs in at an insane 368 lbs.
2023 Color: Ducati Red
Panigale V4 R MSRP: $44,995 USD / $52,995 CDN
2023 Ducati Superleggera V4
Produced in a limited edition of only 500 numbered units and accompanied by a certificate of authenticity, the Superleggera V4 is the most exclusive Ducati ever produced. This superlight sportbike features a carbon fiber front frame, swing arm, fairings, and wheels, partnered with Ducati's powerful 998cc Desmosedici Stradale V4 engine, with power outputs of 224 horsepower and 85.5 lb-ft of torque, or 234 hp and 87.7 lb-ft with a racing exhaust installed. The lightweight chassis and strong engine result in a power-to-weight ratio of 1.41 hp to kg. Which is seriously impressive.
As you'd expect, this exclusive motorcycle has the full works in terms of top-spec equipment and rider aids. If it can be made out of carbon fiber, it's made out of carbon fiber. It has all the technology currently on offer from advanced traction control to lap timers. Naturally, it also has a titanium Akrapovic exhaust too.
Color: Red-SLV4 and lots of Carbon Fiber
Superleggera V4 MSRP: It is simply not polite to ask
2023 Ducati SuperSport
2023 Ducati 950 / 950 S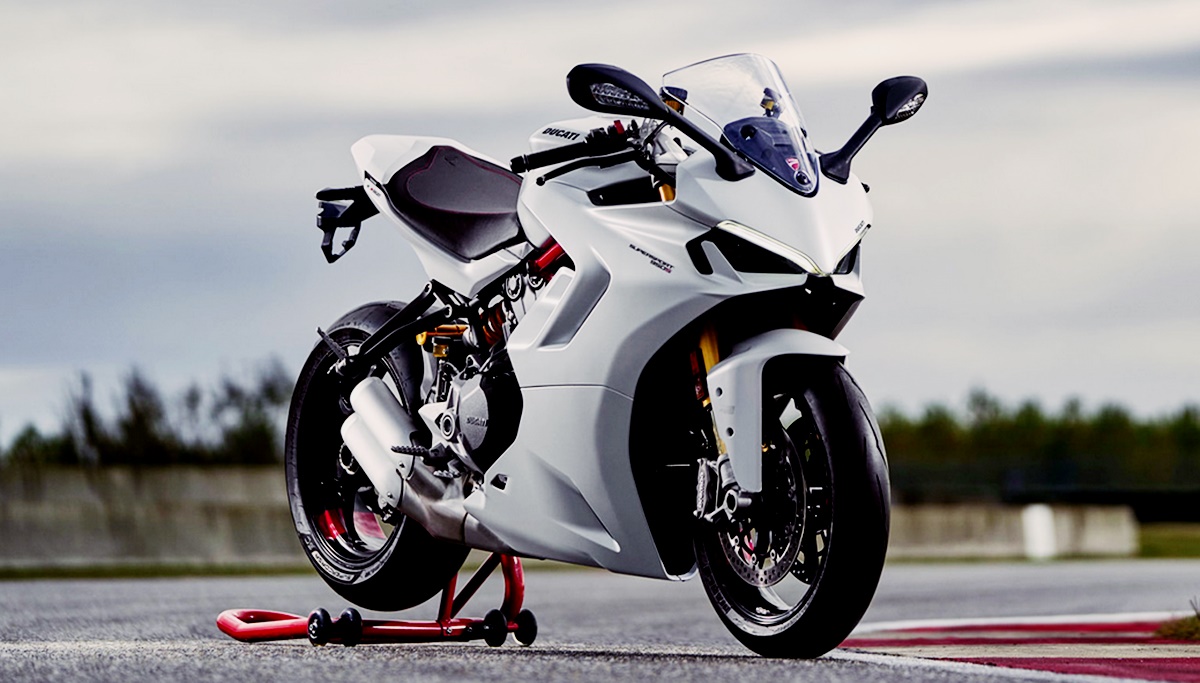 An entry-level sportbike that embodies Ducati's competitive character is the Supersport 950. It is directly based on the Panigale V4 line, but it has a smaller, more controllable frame and an entirely different engine. The Supersport 950 is the right bike for you if you're searching for a less aggressive but no less seductive Ducati sportbike with a lower price tag.
The Ducati Supersport 950's 937 cc Testastretta 11-degree twin-cylinder engine generates a meager 110 horsepower and 69 lb-ft of torque while packing 405 lbs of dry weight onto its chassis. A sophisticated electronics package that includes a Ducati bi-directional quick-shifter, numerous riding modes, power modes, cornering ABS, next-generation traction control, and wheelie control is added on top of the engine. It goes beyond being a Panigale-lite. It is a true sportbike in and of itself.
What does the 950S include? enhancements to the suspension. The 950S's fully adjustable Öhlins setup is superior to the 950's fully adjustable Marzocchi.
2023 Color: Ducati Red, Arctic White Silk
950 MSRP: $14,595 USD / $16,495 CDN
950 S MSRP: $16,895 USD / $19,195 CDN
2023 Ducati Scrambler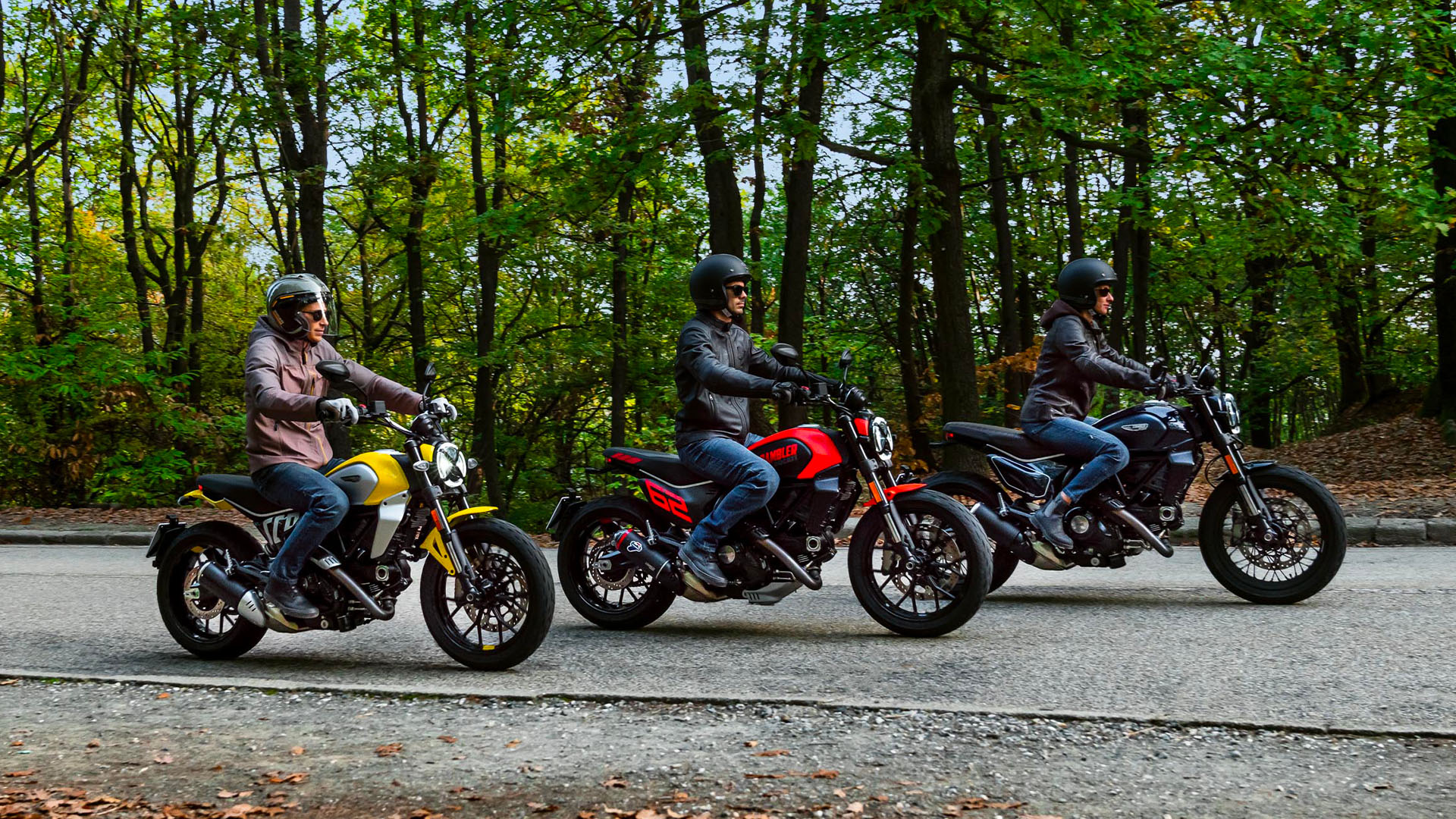 The "Next-Gen" 803cc Scrambler range from Ducati was unveiled; it includes fresh styling, a new ride-by-wire throttle, a 4.3-inch TFT display, and a reworked chassis. The Scrambler recipe is still largely adhered to in the new style. The steel fuel tank has undergone a facelift and now features an interchangeable cover that, along with the fenders and headlight detail, may be changed out for a personalized look.
With an upgraded clutch, transmission, and electronics as well as redesigned casings and new parts, the 803 cc air-cooled 90° V-Twin with two desmo-actuated valves per cylinder is 5.5 pounds lighter than the model it replaces.
A ride-by-wire throttle is added to the new Scrambler, enabling new electronics like traction control and two selectable riding modes, Road and Wet. Additionally, the Scrambler can be equipped with an up-and-down quick shift thanks to the electronic throttle. For the Icon and Nightshift versions, the quick shift will be an extra; for the Scrambler Full Throttle, it will be standard. Cornering ABS was a feature of the previous Scrambler, and it is still available on the new generation of motorcycles.
The revised, lighter trellis frame and new swingarm were added to the Scramblers. The preload-adjustable Kayaba rear shock was also shifted closer to the center of the motorcycle. The 41mm Kayaba fork up front has not changed.
Ducati equipped the new Scramblers with a 4.3-inch color TFT display. Ducati also offers an accessory multimedia system that adds smartphone connectivity.
Now with all the main aspects of the Next Gen Scramblers covered, let me introduce the three new variants of the 803cc Scrambler lineup.
2023 Scrambler Icon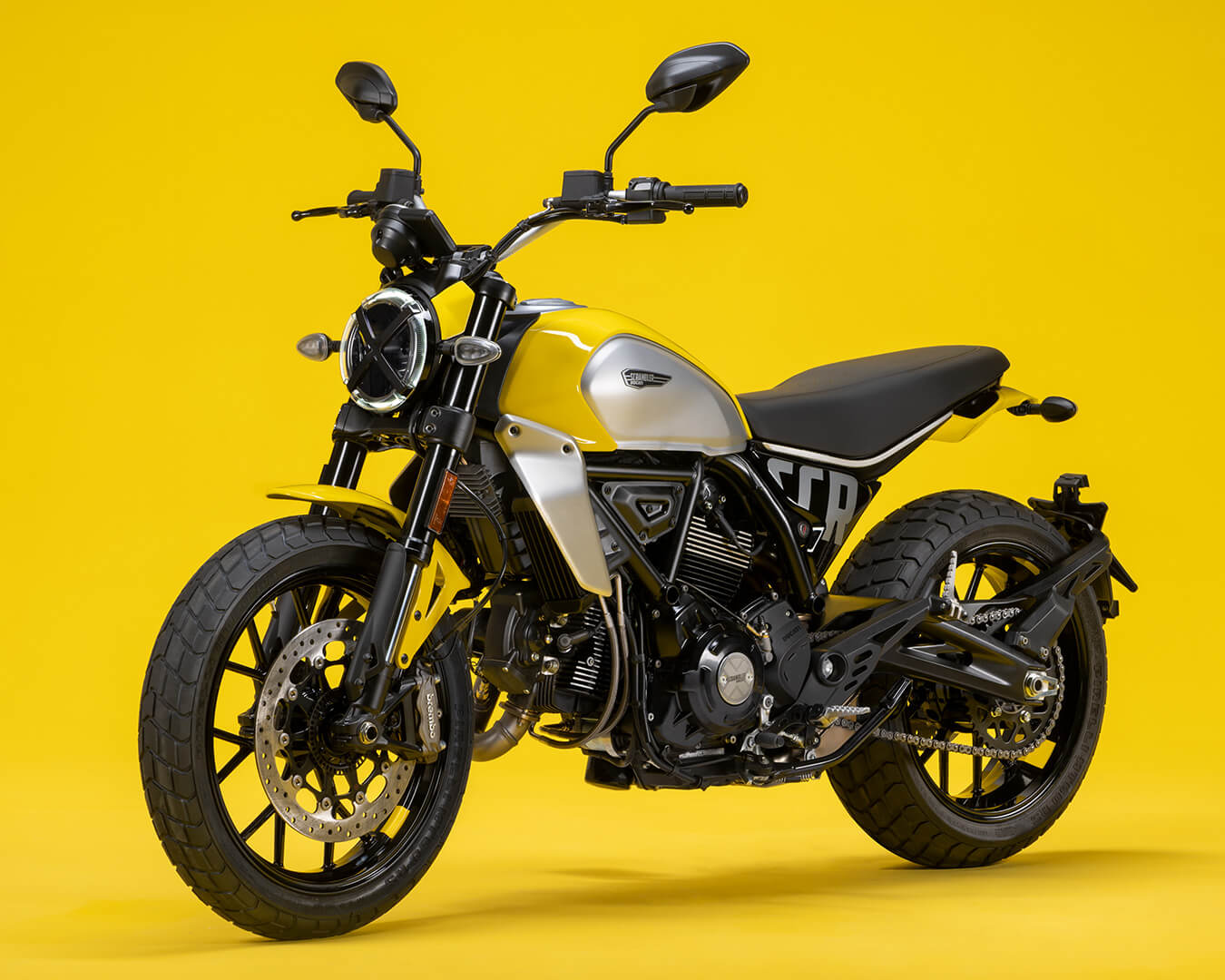 The new Icon has been reintroduced with an even more contemporary design and componentry while yet maintaining its iconic and distinctive appearance. A narrower, flatter seat, new fairing design, sleek black engine detailing, and eye-catching artwork. safety, lightness, and agility. The new Scrambler Icon is more enjoyable than ever.
You can choose between the standard colors and the accessory color kits to customize your Next Gen Icon in 9 different colorways.
2023 Colors: 62 Yellow, Ducati Red, Thrilling Black, Storm Green, Rio Celeste, Tangerine Orange, Jade Green, Sparkling Blue, Velvet Red
Icon MSRP: $10,995 USD / $12,995 CDN
2023 Scrambler Full Throttle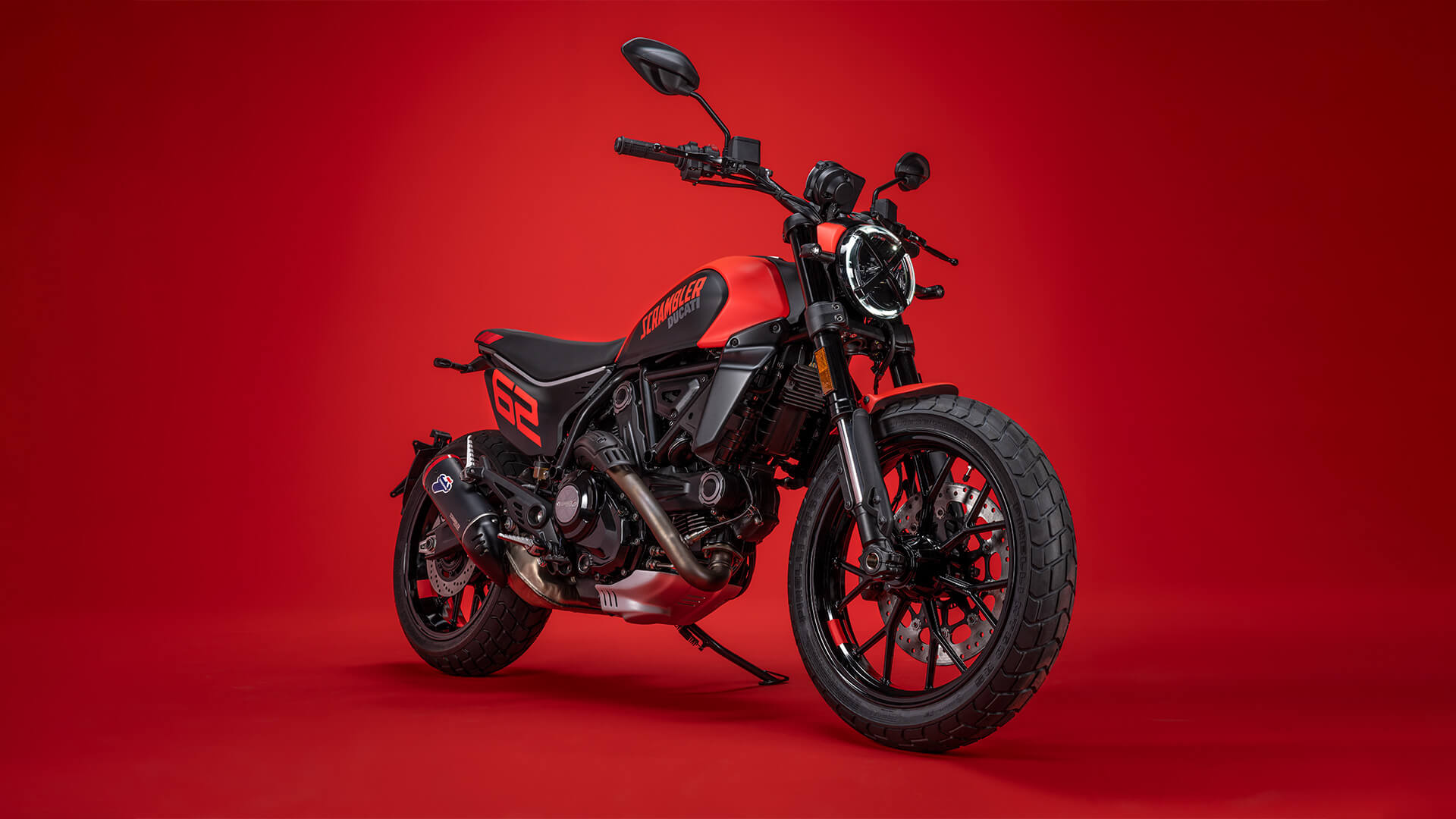 With the sump guard, lower handlebar, shorter front fender, no rear fender, and the Red wheel tags that highlight the real tracker character, and racing spirit of the Full Throttle. The Termignoni homologated silencer completely confirms the Braaaaap mindset.
The dedicated livery in Red GP19/Dark Stealth colors, a sharp saddle logo, and the elegant new side panels showcasing the famous number 62 highlight the aesthetics.
2023 Color: Rosso GP 19
Full Throttle MSRP: $12,195 USD / $14,095 CDN
2023 Scrambler Nightshift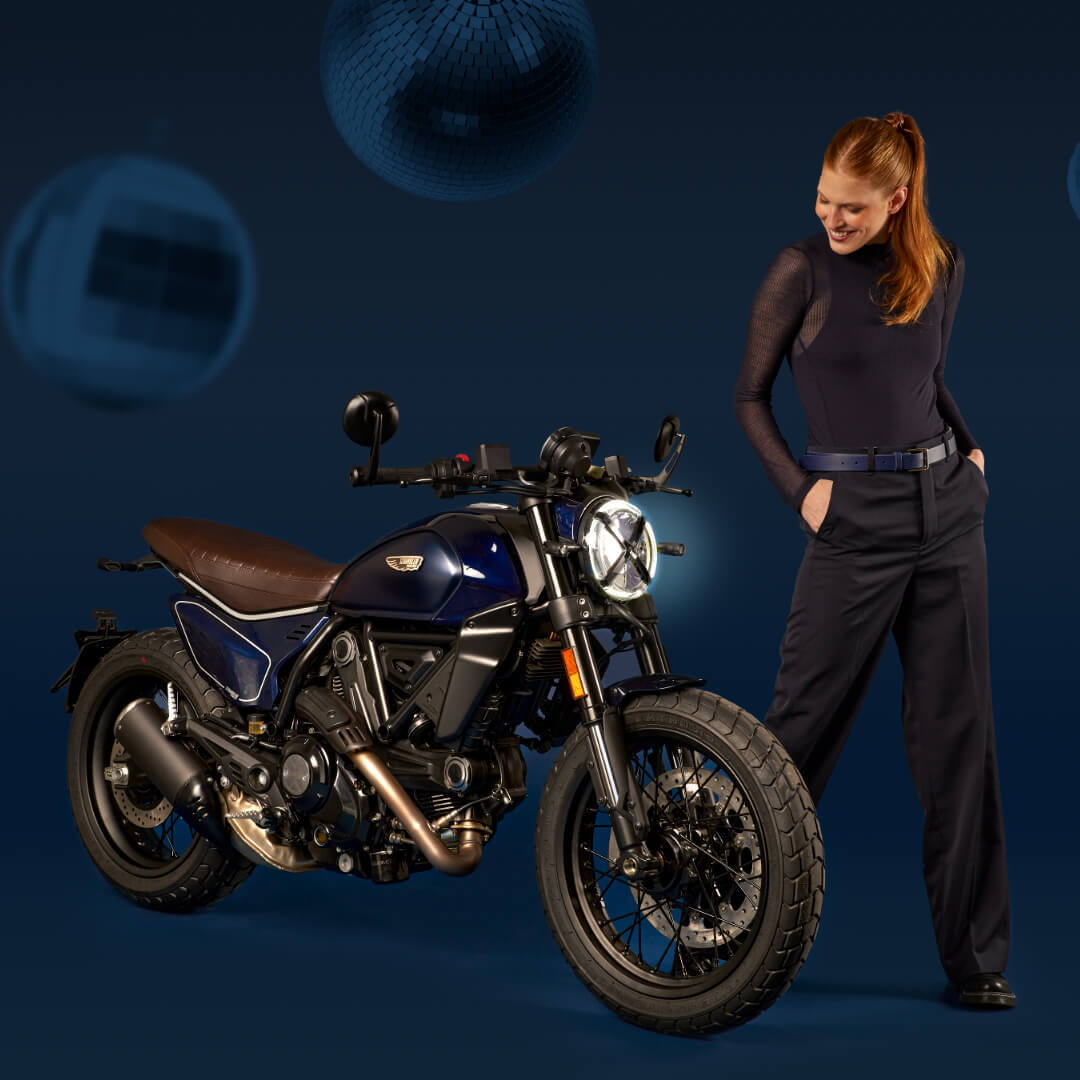 Nightshift has a distinctly street-glamour appearance thanks to the new, distinctive Nebula Blue color, the brown seat with specialized finish, and the fully black spoked wheels. The attitude of a café racer with Side number plates, a short front fender, full-black spoked wheels, and minimum LED indicators are all present.
2023 Color: Nebula Blue
NightShift MSRP: $12,195 USD / $14,095 CDN
2023 Scrambler 1100 Dark Pro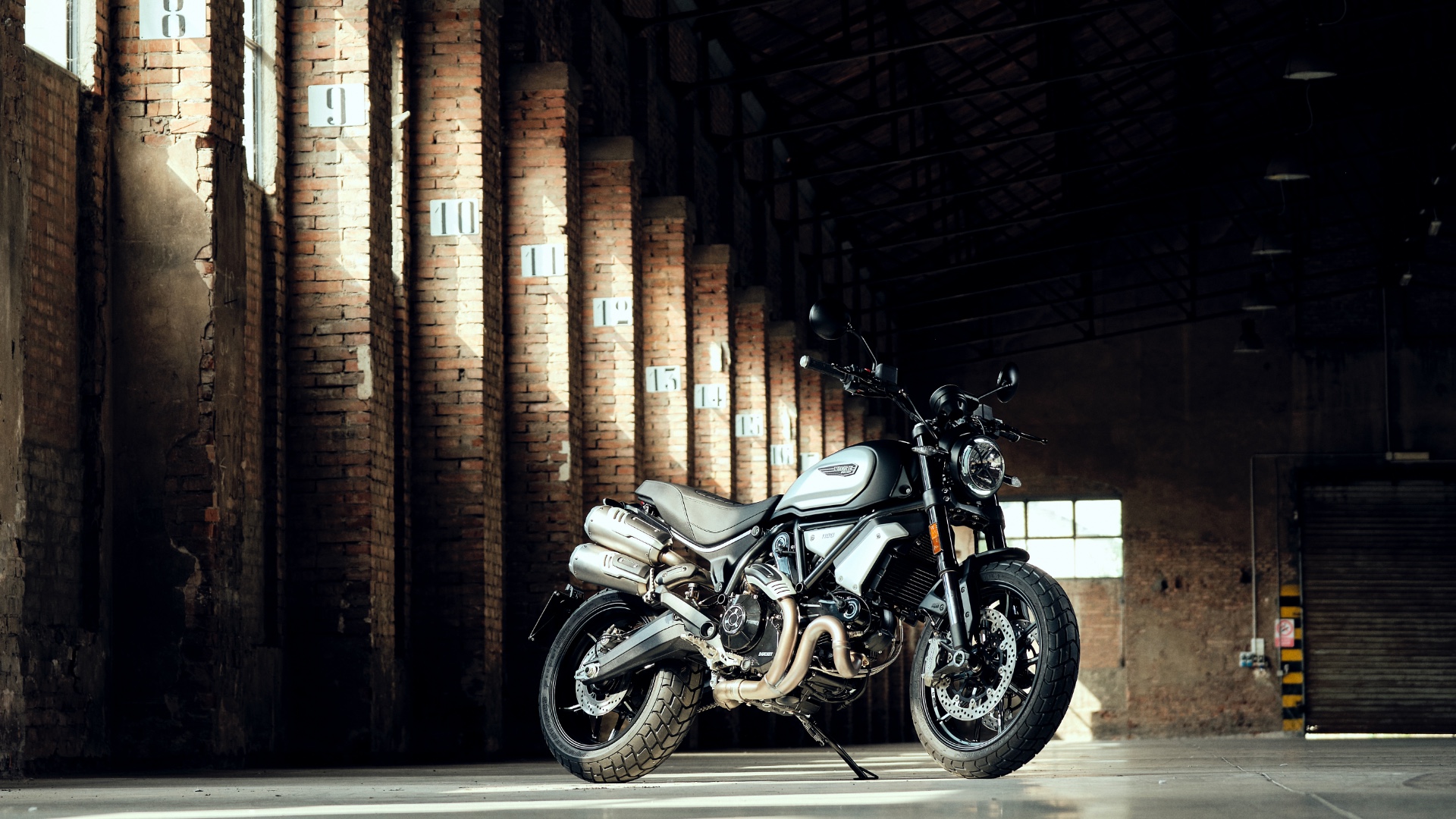 The 2023 1100 Dark Pro features Dark Stealth paint with a black tubular steel frame and aluminum rear frame. Thanks to the right-side dual exhaust and the low number plate holder, which significantly aid in the bike's compactness, the rear of the bike is what people will notice the most.
A 1079 cm3 air-and-oil-cooled, two-valve L-twin engine with EURO 5 approval powers the Scrambler 1100 Dark PRO. Ducati Traction Control (DTC) and three riding modes are just a few of the tech features on the Scrambler 1100 Dark PRO. Brembo brakes with ABS Cornering are responsible for bringing everything to a stop.
2023 Color: Dark Stealth
1100 Dark Pro MSRP: $13,295 USD / $15,495 CDN
2023 Scrambler 1100 Sport Pro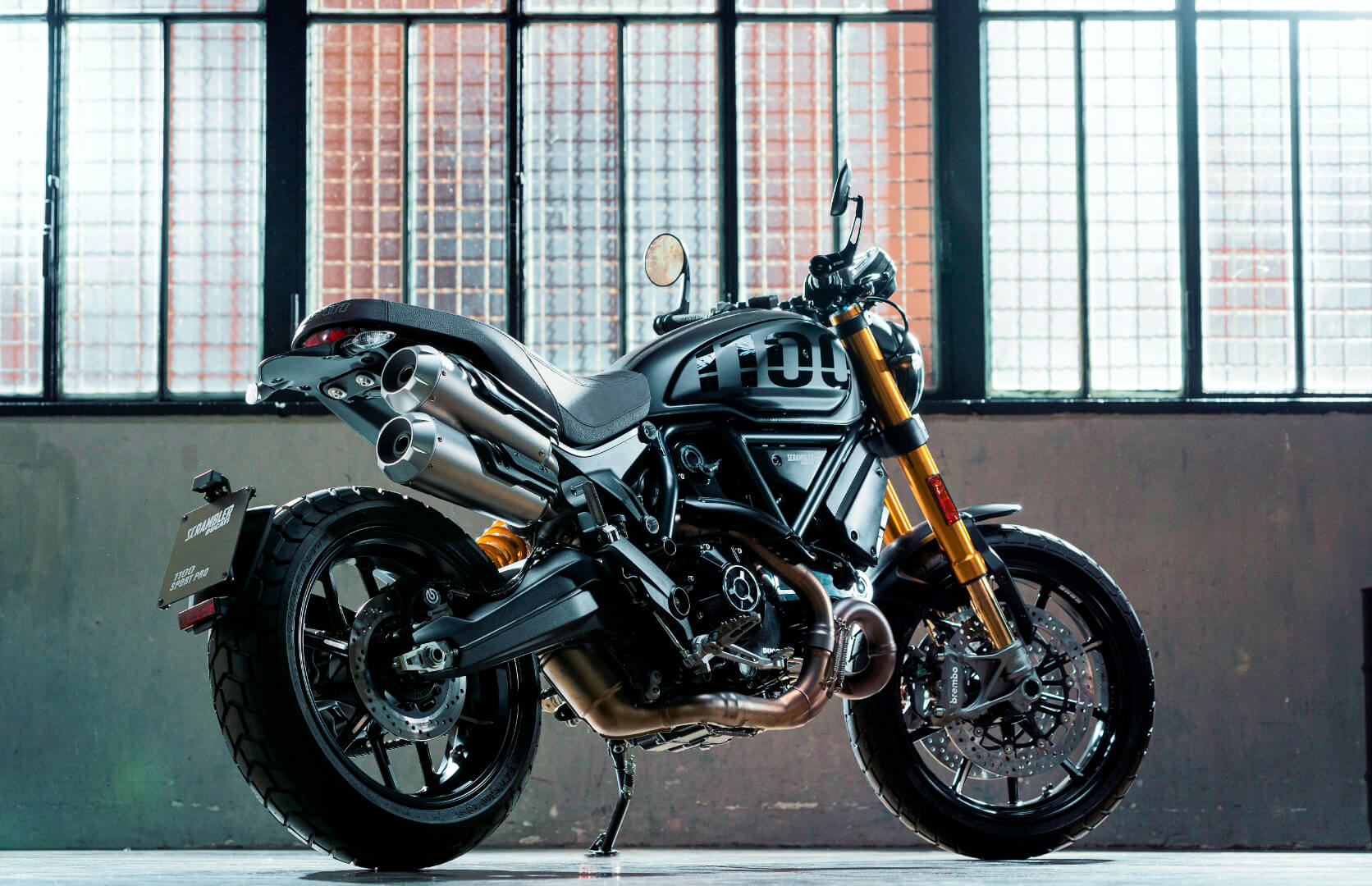 The 1100 Sport Pro is the most powerful Scrambler model ever. Fitted with traction control, a new Ride by Wire throttle, and Öhlins suspension. The 1100 Sport PRO is equipped with a Brembo braking system with ABS Cornering, which assures safety in all types of bends.
The 1079cc, two-valve, air-and-oil-cooled engine has received EURO 5 clearance and makes 86 hp (63 kW) @ 7500 rpm/min, and 65 lb-ft (88 Nm) @ 4750 RPM, and weighs in at just 454 lbs wet.
2023 Color: Matte Black
1100 Sport Pro MSRP: $16,595 USD / $19,495 CDN
2023 Scrambler 1100 Tribute Pro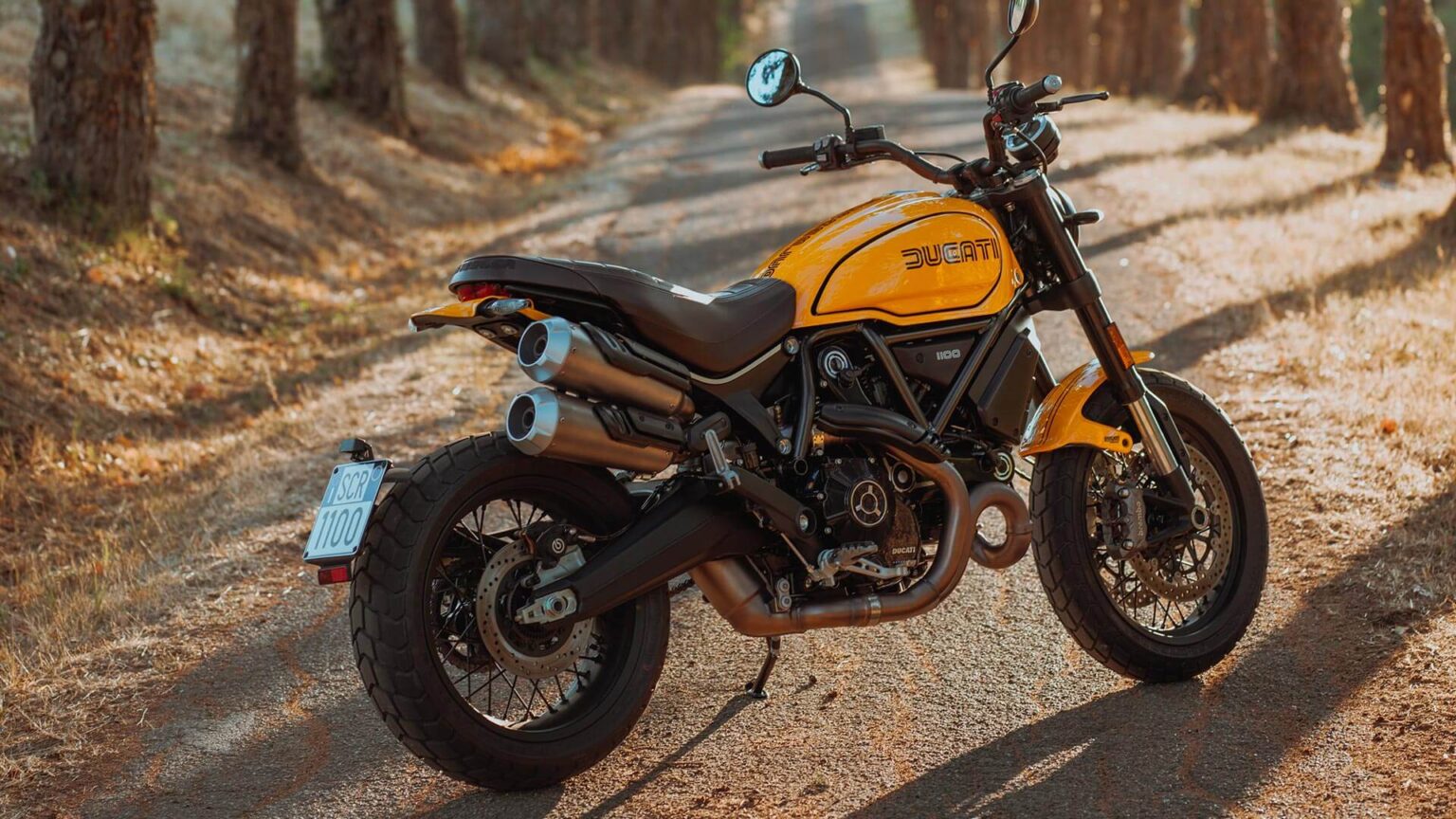 Past, present, and future converge in the Scrambler Ducati 1100 Tribute PRO. Designed to celebrate the history of the air-cooled twin-cylinder engine, 50 years after its introduction to Ducati, this edition in the 1100 PRO family takes us back in time while unleashing a contemporary and fun attitude.
The Centro Stile Ducati was inspired by iconic Ducati elements of the 70s such as the special "Giallo Ocra" livery, the Ducati logo of the time, and the black spoked wheels measuring 18'' at the front and 17'' at the rear.
The engine is an air-and oil-cooled, 1079cc, two-valve L-twin engine with EURO 5 approval, kicking out 86 hp. Naturally, all the latest tech can be found on the Tribute Pro including Ride by Wire electronic management system, three Riding Modes, Ducati Traction Control (DTC), and Cornering ABS.
2023 Color: Giallo Ocra
1100 Sport Pro MSRP: $14,495 USD / $17,095 CDN
More info @ Ducati