The 2022 Honda Rebel 1100: A Real Rebel-Rouser
Contents
Who says a Honda Rebel has to be a beginner bike? While it's true that the smaller-displacement Rebel 300 and Rebel 500 are ideally-suited to newer riders, the Rebel 1100 is a serious bike for serious bikers. And in 2022, that hasn't changed one bit.
That said, it's not like Honda Motorcycles has reinvented the wheel here. This is still a Rebel, through-and-through—you get the same rideability, safety features, and smooth power delivery that characterizes the entire Rebel range of bikes (and, to some extent, the most popular cruisers from practically all the Japanese bike makers). This one's just bigger and badder, featuring a 1084cc parallel twin engine (the same one, incidentally, that's nestled inside their legendary CRF1100L Africa Twin.
Like the smaller Rebels, the 1100 is basically unchanged for 2022—you get a new color (Pearl Stallion Brown) and a price increase of $100. But the 2021 model didn't exactly need revamping; with 86 hp and 72 lb-ft of torque (at 7000 and 4250 rpm, respectively), this is a bike that offers plenty of accessible power, even for seasoned riders.
Selectable riding modes, cruise control, ABS, and even a USB charging port all round out the bikes other features—ensuring that it remains an up-to-date entry in Honda's 2022 motorcycle lineup. If you're looking for a reliable all-around cruiser bike this year, the Rebel 1100 has got you covered.
The 2022 Honda Rebel 1100 starts at $9,399 USD / $13,199 CAD.
On this page: we've curated specs, features, news, photos/videos, etc. so you can read up on the new 2022 Honda Rebel 1100 in one place.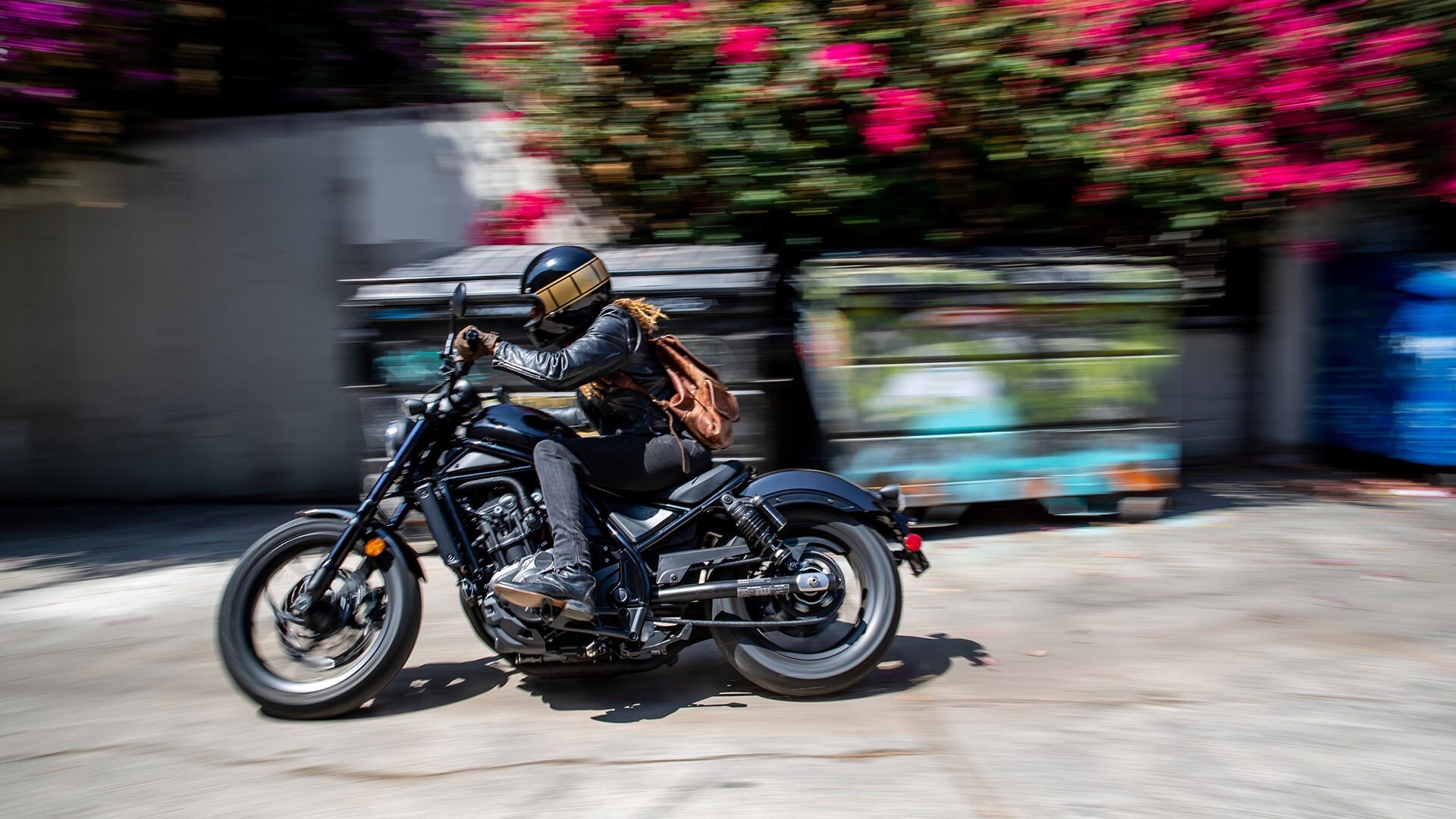 ---
Model Overview
General Info
Price: $9,399 USD / $13,199 CAD
Key Features:

Slipper/assist clutch
Fuel-injection
Blacked-out style
Wide 16" rear tire
Selectable riding modes
Cruise control and ABS
USB charging port
Main Specs
Engine: 1084cc Unicam® parallel twin engine
Power: 86 hp
Torque: 72 lb.-ft
Curb Weight: 487 lbs. (221 kg)
Seat Height: 27.5 in (699 mm) at lowest point
Competitors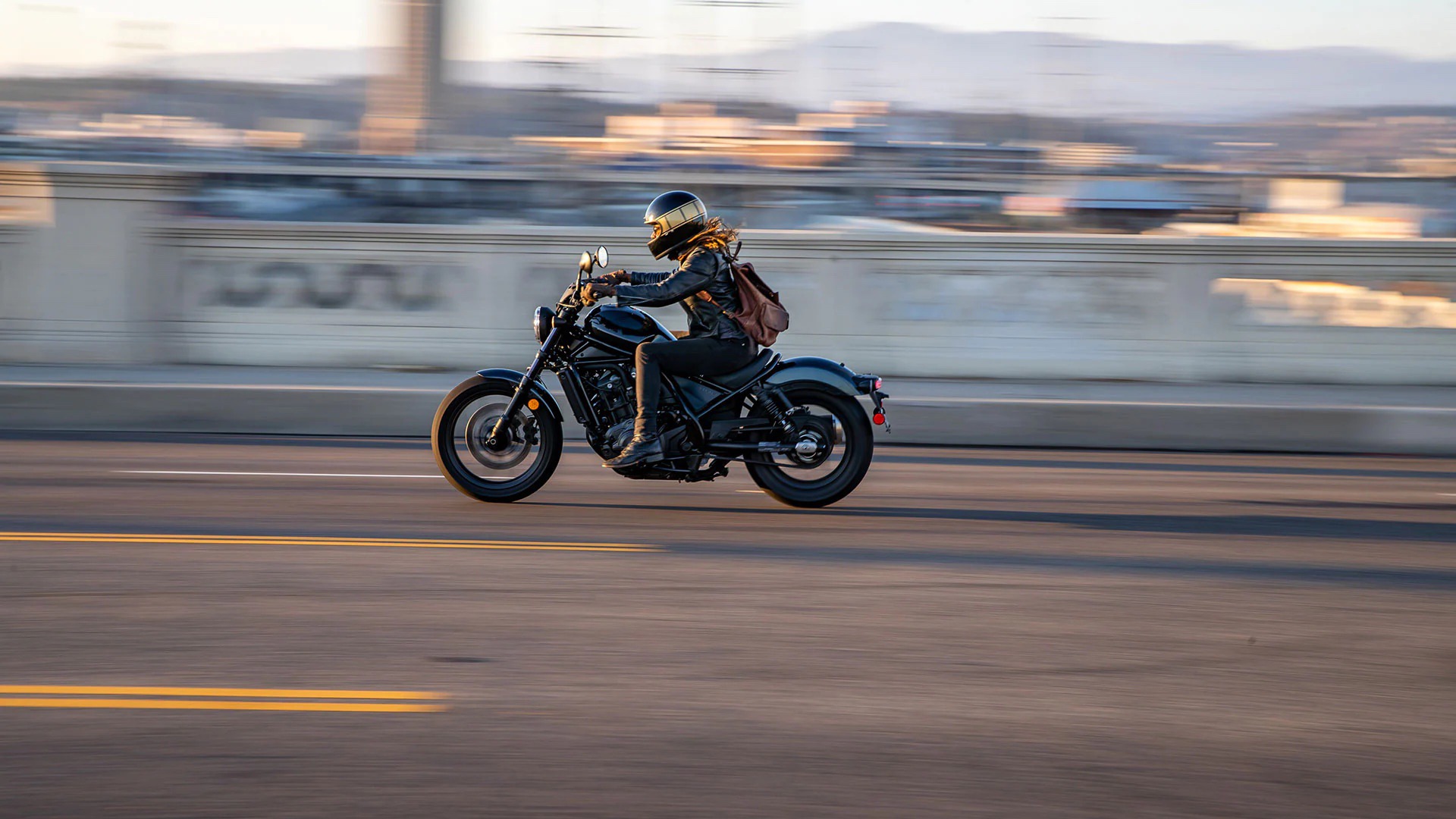 ---
2022 Honda Rebel 1100 Specifications
| | |
| --- | --- |
| ENGINE | |
| Engine | 1084cc liquid-cooled Unicam® four-stroke 22.5° parallel-twin |
| Power | 86 HP |
| Bore x Stroke | 92mm x 81.5mm |
| Compression Ratio | 10.1:1 |
| Induction | PGM-FI electronic fuel injection (Throttle By Wire) |
| Starter | Electric |
| Valve Train | SOHC; 4 valves per cylinder |
| DRIVETRAIN | |
| Clutch | |
| Transmission | Six-speed Manual |
| Final Drive | #525 O-ring-sealed chain; 16T/42T |
| CHASSIS | |
| Suspension Front | 43mm fork; 4.8 inches of travel |
| Suspension Rear | Dual Showa shocks with 12.5mm shafts, adjustable preload, and piggyback pressurized reservoirs; 3.7 inches of travel |
| Brakes Front | Single radial-mounted four-piston caliper with full-floating 330mm disc; ABS |
| Brakes Rear | Single-caliper 256mm disc; ABS |
| Tires Front | 130/70-18 |
| Tires Rear | 180/65-16 |
| Fuel Tank Capacity | 3.6 gallons including 1.1-gallon reserve |
| Color | Metallic Black, Bordeaux Red Metallic, Pearl Stallion Brown |
| ELECTRICAL | |
| Ignition | Full transistorized ignition |
| Spark Plugs | |
| Headlight | |
| Tail Light | |
| DIMENSIONS | |
| Overall Length | |
| Ground Clearance | |
| Trail | 4.3 inches |
| Wheelbase | 59.8 inches |
| Rake (Caster Angle) | 28° 0′ |
| Seat Height | 27.5 inches |
| Curb Weight | 487 pounds (Includes all standard equipment, required fluids and a full tank of fuel—ready to ride) |
| WARRANTY | |
| Warranty | Transferable, unlimited-mileage limited warranty |
| Extension | Extended coverage available with a HondaCare Protection Plan® |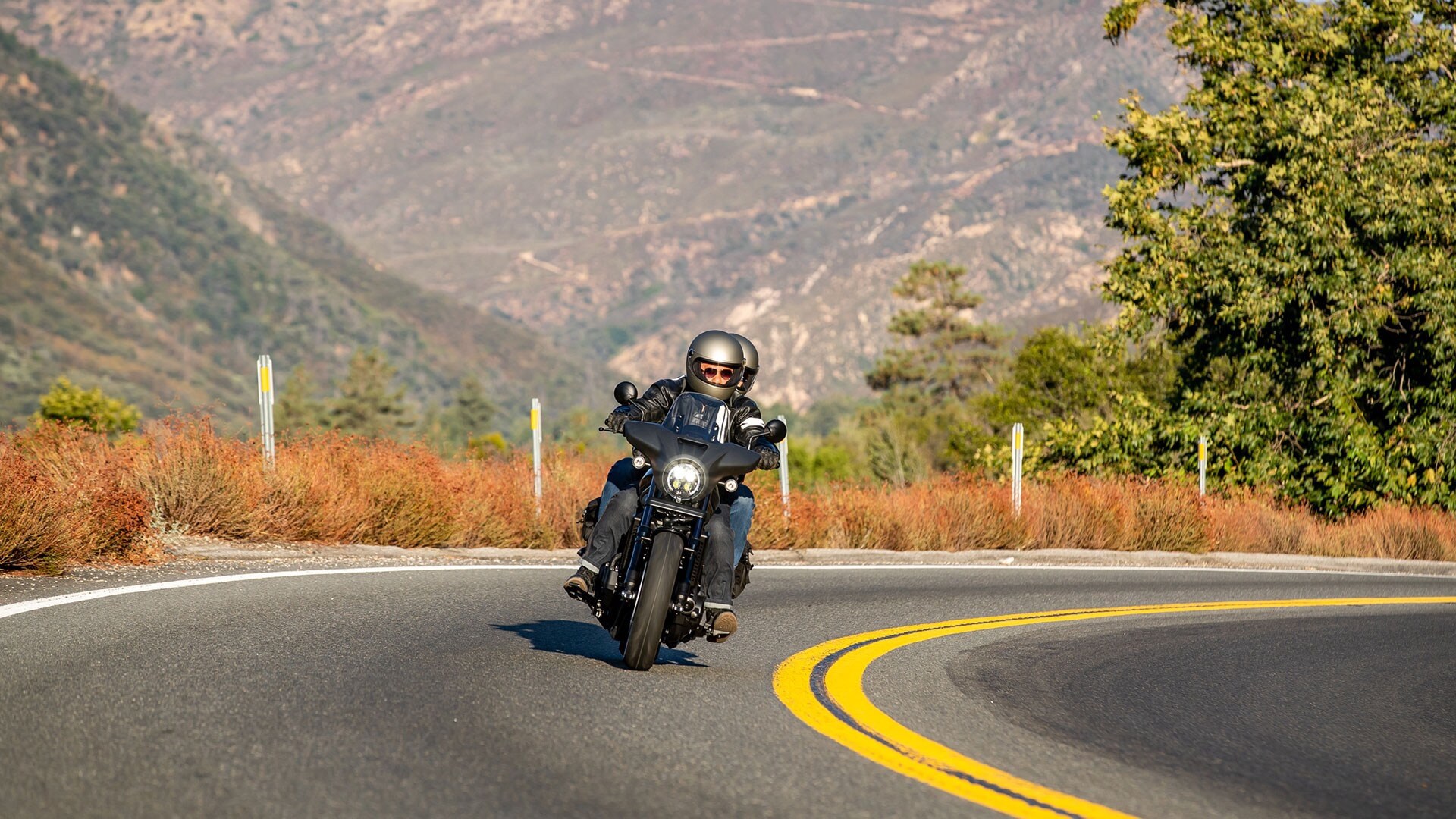 ---
2022 Honda Rebel 1100 Features
PERFORMANCE
1084cc TWIN-CYLINDER ENGINE
The Rebel 1100 sports an engine that redefines what a modern cruiser can and should be. The parallel-twin design is narrow and delivers torque everywhere from idle to redline. Proven in our Africa Twin, you'll have plenty of power grunt down low, but the Rebel 1100 cruises easy and revs like nothing else in the class.
UNICAM ENGINE DESIGN
Honda's exclusive Unicam® engine design helps us give the Rebel 1100 a compact cylinder head for optimal engine placement. But the engine also benefits from superior performance, thanks to the entire cylinder-head layout. It's the best of both worlds!
270-DEGREE-PHASE CRANK
Most twins use a 180-degree crank. By phasing the Rebel 1100's at 270 degrees, you get a unique, rumbling power delivery that's easy to modulate, and that produces an awesome exhaust sound.
SPECIAL CAMSHAFT TIMING
We use different camshaft profiles and ignition timing for each of the Rebel 1100's two cylinders. Why? One cylinder produces slightly more power below 4000 rpm, and the other more above 4000 rpm. Along with the 270-degree crankshaft, the result is a unique power pulse and feel you're going to love. Plus the Rebel 1100 makes way more power (nearly 50 percent more) than some of the "traditional" cruisers out there.

ENGINEERING
CRUISE CONTROL
With a bike like the Rebel 1100, you're going to want to get out and ride. That's why we've equipped it with cruise control, just like our Gold Wings. Want to kick back and cruise on the open road all weekend long? No problem!
THROTTLE BY WIRE
Our throttle-by-wire system greatly expands the Rebel 1100's versatility. First, you get four levels of Honda Selectable Torque Control. Second, you can choose from four power delivery modes: Standard, Rain, Sport, and a fourth that's user-programmable. First used on our World-Champion RC213V MotoGP bikes, throttle-by-wire is an excellent example of how Honda's technology works for you.
SIX-SPEED DCT AUTOMATIC TRANSMISSION
We make two versions of the new Rebel 1100: One with a conventional manual transmission, and another with Honda's revolutionary automatic DCT gearbox. DCT is the transmission of the future, and it's the perfect choice for a bike like this. Inside, it's as tough as a conventional transmission, with steel gears throughout. You can let it shift for you, or paddle shifters in the manual mode give you full control. For relaxed cruising, just leave it in automatic mode and you'll never worry about stalling or hand fatigue in stop-and-go traffic.
SIX-SPEED MANUAL TRANSMISSION
The Rebel 1100 features a conventional six-speed manual gearbox with a handlebar-mounted clutch lever. It's a proven, tough design that makes the bike a little bit lighter, too.
SLIPPER/ASSIST CLUTCH
Developed and perfected in Honda's racing machines, the slipper/assist clutch (on the manual-transmission model) means you get a lighter clutch pull at the lever, but a solid lockup when you release the lever and apply power. It's technology that reduces clutch effort at the bar by about 30 percent.
BIAXIAL COUNTERBALANCE
By using counterbalancing elements on two axes, Honda's engineers can cancel and fine-tune both primary and coupling vibrations from the engine. The result: we can mount the engine solidly for superior strength and handling. You get a superior ride, yet the engine still produces a pulsing beat you both hear and feel.
SUPERIOR HANDLING
A lot of today's motorcycles look great standing still or just putting along, but disappoint once the road gets twisty. At Honda, we set high standards for the way all our bikes handle and feel, and the Rebel 1100 is a perfect example—we've paid just as much attention to the way this bike corners and handles as we have its knockout styling.
LOW CENTER OF GRAVITY, COMPACT MASS
By locating heavy components like the crankshaft low and as close to the bike's center of gravity as possible, and by using a compact engine design, the Rebel 1100 provides a superior platform for excellent handling.
STEEL FRAME
The Rebel 1100's frame is not only an important reason why this bike handles so well, it's also an important styling element. The trellis design describes a bold diagonal theme line from the steering head to the swingarm pivot.
CAST ALUMINUM WHEELS
Cast wheels front and rear are light, practical, easy to keep clean, and give the Rebel 1100 a look that tells you this is not built like a retro machine. The wide rims and tires add to the bike's appearance, too.
POWERFUL DISC BRAKES
The Rebel 1100 features a radially mounted front-brake caliper for powerful stopping performance. The radial-mount design also helps make it stiffer, increasing brake feel and control, and grips a single, massive 330mm disc. And at the rear, there's a 256mm disc as well for excellent stopping power.
ANTI-LOCK BRAKES
Both the automatic DCT and manual-shift Rebel 1100s feature Honda's refined anti-lock braking system. When riding in town, in the rain, or on unfamiliar roads, it's a great asset that can help you make controlled stops in less-than-ideal conditions. For a bike like this, it's a feature everyone can appreciate.
WHEELIE CONTROL
Like our high-tech CBR1000RR-R Fireblade, the Rebel 1100 features front and rear wheel-speed sensors working with the Honda Selectable Torque Control (HSTC). The system also lets you dial in three levels of wheelie control.
UNDER-SEAT USB-C TERMINAL
We know you're going to want to charge up your personal electronics or run accessories like a navigational aid while you're out riding, and that's why we've provided a handy under-seat USB-C port.
WIDE REAR TIRE
The Rebel's low, fat 16-inch 180/65 rear tire gives you plenty of grip while helping to lower the bike's overall seat height and stance. And it looks tough, too.
WIDE FRONT TIRE
The Rebel 1100's wide 130/70-18 front tire not only give the bike a great look, but it helps provide superior handling and stopping power.

STYLE
BLACKED-OUT STYLE
Our family of Rebels are blank canvases for your self expression. But unlike the canvas you buy at the art store, they're not boring white. As is, its blacked-out engine pieces, frame, fork and bodywork elements look great during the day and even better at night. We even black-plated the final-drive chain!
BLACKED-OUT MUFFLER
Forget about having to polish chrome or exhaust pipes that turn—the Rebel's blacked-out exhaust system blends perfectly with the bike's overall look. And maybe the biggest plus? The awesome sound that's so important to the riding experience.
MODERN/CLASSIC INSTRUMENT SHAPE
Another iconic element combining traditional and modern, the Rebel's instruments take a classic shape and fill it with totally up-to-date reverse-image digital LCD information. The instruments include a speedometer, tachometer, gear-position indicator, a fuel-indicator, engine output mode, torque control level, engine braking mode and much more.
FOUR-BULB HEADLIGHT
Another critical item in motorcycle design is the headlight. With the Rebel 1100 you get the best of both worlds. The LED lamp is bright and precise, while the round, three-inch nacelle shape gives the Rebel 1100 a character that exudes class.
ALL LED LIGHTING PACKAGE
LED lighting is where it's at now. LEDs can be lighter, brighter, and require fewer lifetime replacements than incandescent bulbs. That's why the Rebel 1100 features an all-LED lighting package—headlight, taillight, turn signals, even the license-plate light.
SEAMLESS FUEL TANK
Can you see the flange on the bottom of the Rebel 1100's fuel tank? Trick question! That's because there isn't one. Like the best custom-built bikes, we've fabricated the fuel tank without a flange to clean up the bike's lines and give it a more refined look.
3.6-GALLON FUEL TANK
One of the key items in motorcycle design is the fuel tank. Holding a generous 3.6 gallons, the Rebel 1100's iconic fuel-tank shape is timeless, but functionally it also teams up with the bike's great fuel efficiency to give you plenty of range.
LEFT-SIDE IGNITION SWITCH/STORAGE ACCESS
Moving the ignition switch to the left side keeps the Rebel 1100's dash uncluttered. It also lets the same switch unlock the three-liter underseat storage compartment for extra convenience.
COLOR CHOICES
Ready for some awesome color choices for 2022? Check out what you can be riding: Metallic Black, Bordeaux Red Metallic, and Pearl Stallion Brown.
STEEL FRONT AND REAR FENDERS
Real steel never goes out of style. The Rebel 1100 has steel fenders front and rear. There's even an optional shorty front fender available.
WIDE 43mm FORK
It's what's up front that counts most in style, and the Rebel 1100 knocks it out of the park. Of course the front suspension offers precise steering and a plush ride, but the fat 43mm fork tubes give the bike a substantial presence too, and a special titanium oxide finish on the fork tubes maintain the rich blackout look.
PREMIUM REAR SUSPENSION
Because we build the Rebel 1100 for serious canyon rides as well as laid-back cruising, we gave it a pair of nitrogen-filled remote-reservoir shocks, and equipped them with a special spring rate too. Just like the front suspension, it's about adding both comfort and performance to your riding experience.
OPTIONAL Honda ACCESSORIES
Want to give your Rebel 1100 some individual touches? We have an extensive selection of Honda accessories. For example, there are several seat options, including two with brown upholstery. Carrying a passenger? Then you'll want our passenger seat, backrest, and more. Other popular items include saddlebags, rear carrier, and windscreen—almost 30 items in all.

COMFORT
LOW SEAT HEIGHT
When it comes to cruisers and seat heights, almost everyone likes them lower. At just 27.5 inches, the Rebel 1100 has one of the lowest seats in anyone's lineup. It's comfortable when you ride, and it makes it easier to flat-foot it at stoplights or in parking lots.
LIGHT OVERALL WEIGHT
Weighing just 487 pounds with a full tank of fuel (manual transmission model), the Rebel 1100 is close to 80 pounds lighter than some of its competition. That makes it easier to handle and a lot more fun and friendly to ride than some heavier machines. The light overall weight and a low center of gravity help performance, too.
NARROW OVERALL WIDTH
Super-narrow, especially at the critical tank/seat junction, the Rebel 1100 makes it easier to get on and off the bike, and to put your feet down at stops. Plus, the Rebel fits a wide variety of riders.
ROOMY RIDER TRIANGLE
A rider makes contact with the bike at three points: the seat, the handlebar, and the footpegs. The Rebel 1100's rider triangle strikes the perfect balance between laid-back cruiser and more active sport riding. You ride with a commanding presence, and the minute you sit on a Rebel in your local Honda dealership, you'll know it.
SOLO SEAT WITH OPTIONAL PASSENGER SEAT AND FOOTPEG KIT
Travelling light and on your own? Want to take a friend along? Like the clean look of a solo seat? Like the versatility of a passenger seat? With the Rebel 1100 you can easily have it both ways, since the removable seat rails, optional passenger seat, passenger footpegs and footpeg hangers are all simple, bolt-on parts.

---
2022 Honda Rebel 1100 Photos
---
2022 Honda Rebel 1100 Videos
New 2022 Honda Rebel | What's Different? | Specs, Upgrades, & Features
NEW Honda Rebel 1100 Review: Specs, Features, Exhaust | Optional DCT Automatic Cruiser Motorcycle!
---
Links
Honda Websites
Other Links