'Flying Motorcycles' Now Have a Whole New Meaning
Kawasaki Heavy Industries (KHI) has been tinkering with the concept of an unmanned transport system that could potentially help in the daily lives of communities worldwide – and we're told that the aircraft component houses a supercharged engine from the bonkers Ninja H2R.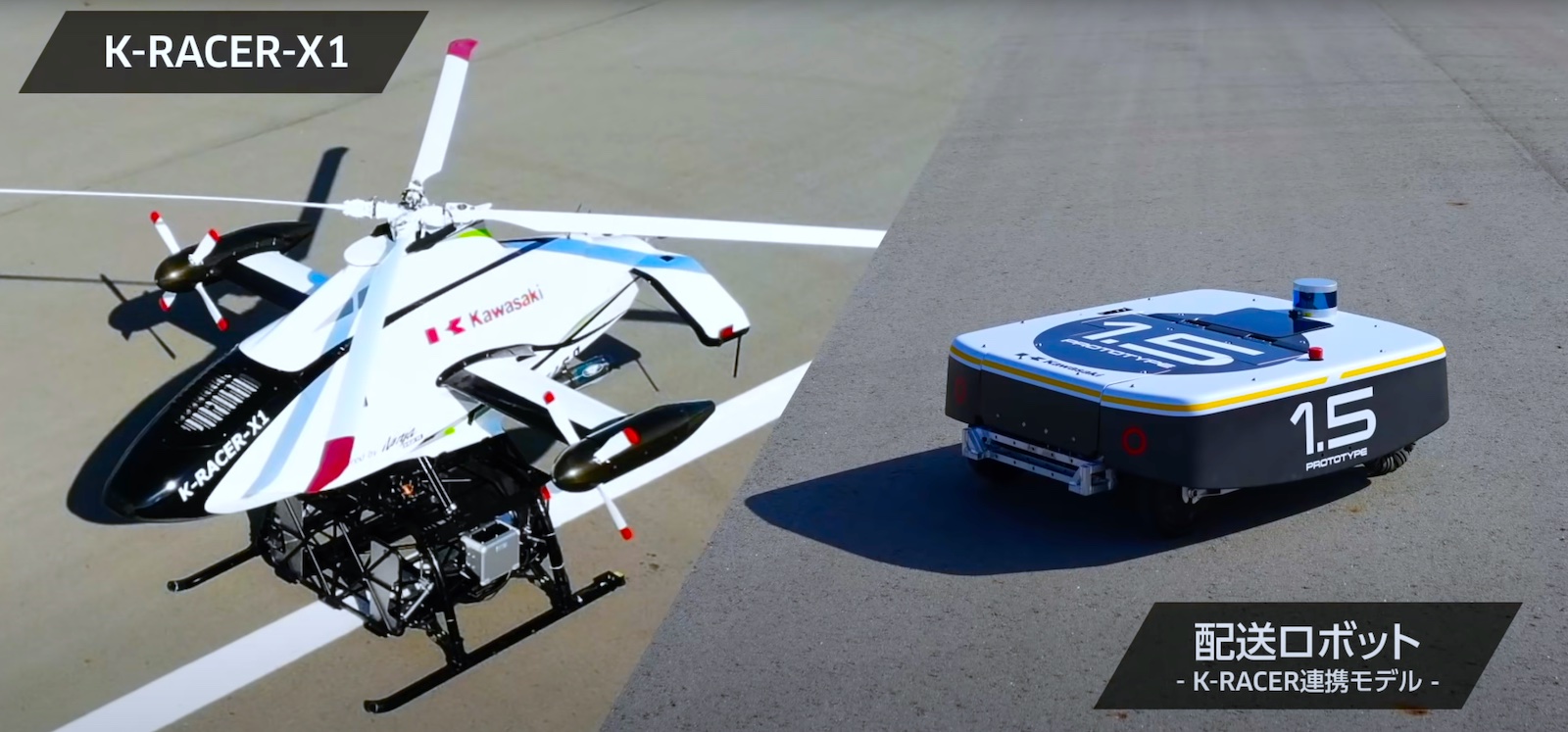 It makes sense, really.  With KHI in need of punchy engines to pilot their delivery robot prototypes and the company's motorcycle dealership a smart walk away, we're not surprised that they would crossover parts in projects from different departments. 
What's neat is that the aircraft in question isn't just a typical airplane; it will showcase Vertical Take-Off & Landing (VTOL) technology or the ability to land and take-off without the need for a runway – a very valuable thing in urban or remote settings.
VTOL is apparently very popular with emerging electric prototypes, as well as remotely-controlled vehicles (for the obvious reason that lack of VTOL would mean additional training for the person behind the controls and more space to reconnect with the ground).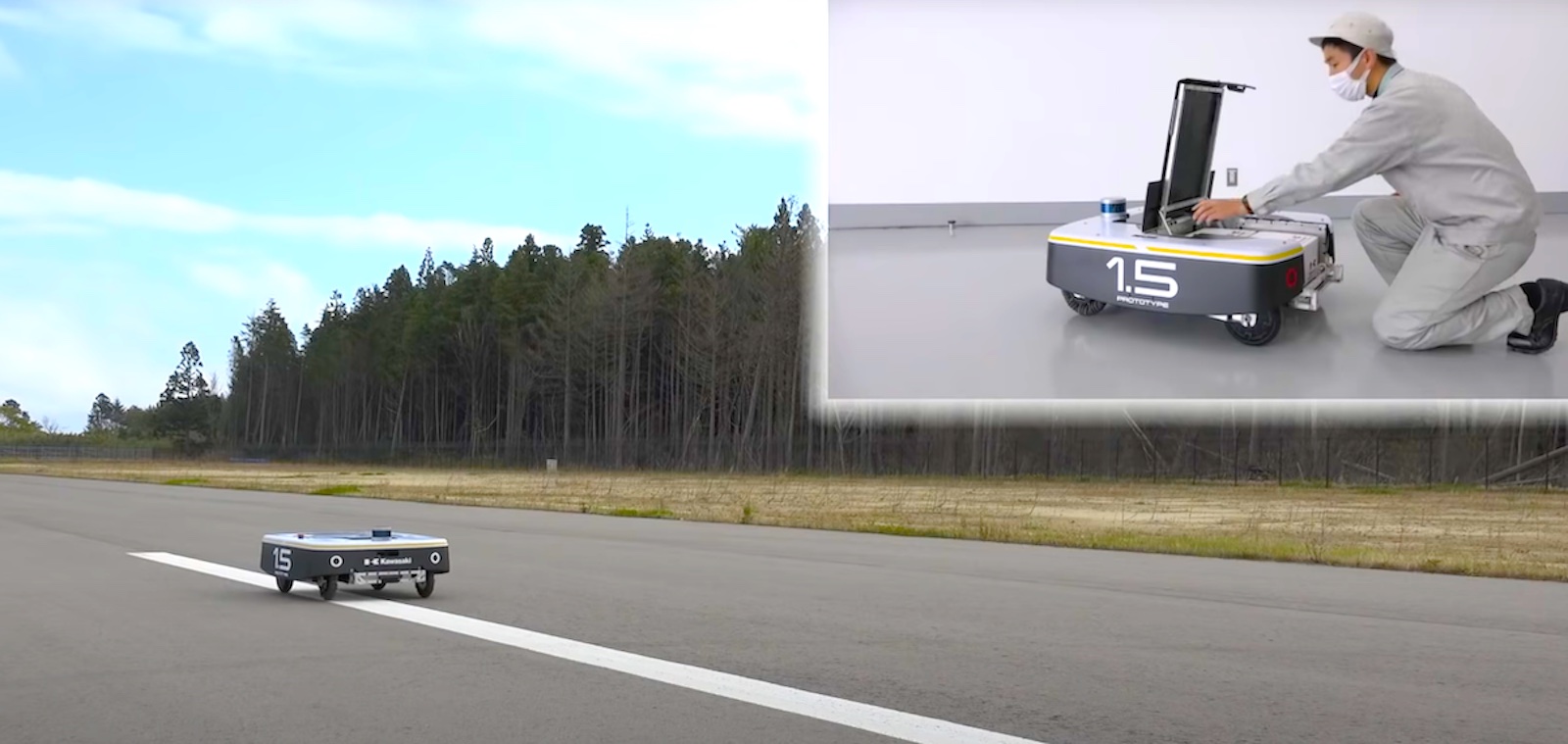 The reason for KHI's invention? We're told by Robotics & Automation News that Team Green wants to "solve societal issues such as labor shortages in the logistics industry," and the importance of a cargo system "that is not affected by road-traffic conditions or topographic features such as seas, mountains and rivers, and reliable logistics services to locations deep in the mountains or on remote islands."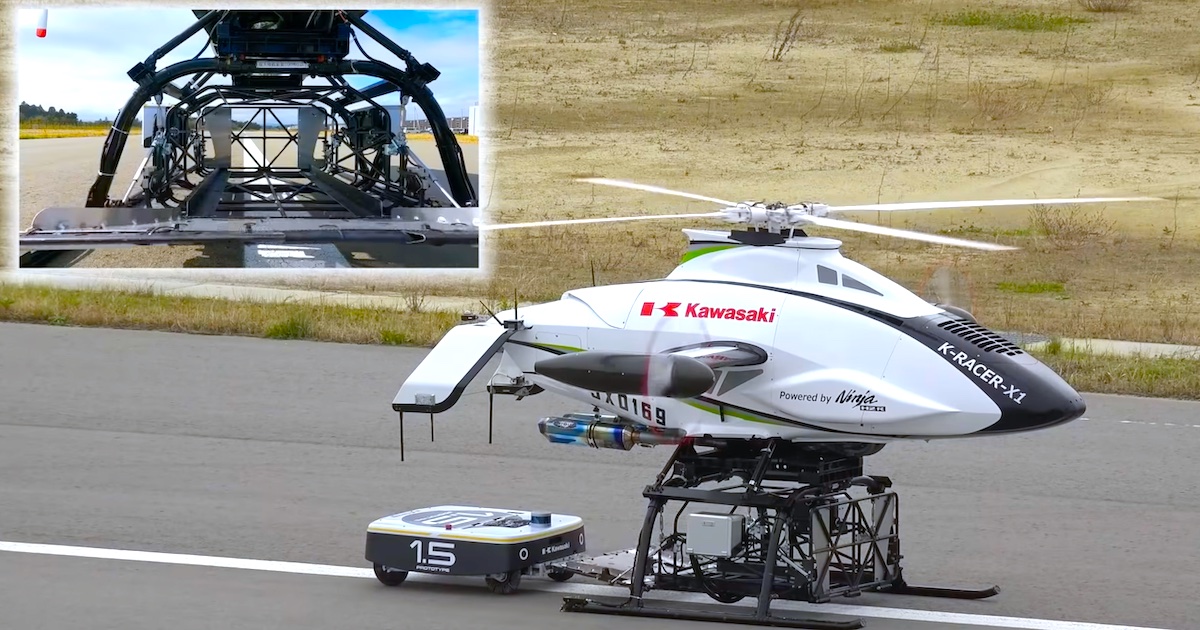 All told, the fully-automated K-Racer-X1 is purportedly able to "transport a 100-kilogram payload and is equipped with a delivery robot loading and unloading mechanism."
"The delivery robot used together with the unmanned VTOL is based on a delivery robot designed to achieve smooth, stable operations even on rough and bumpy roads, developed utilizing Kawasaki's knowledge in robotics and technologies behind the off-road capabilities of its motorcycles and side-by-sides."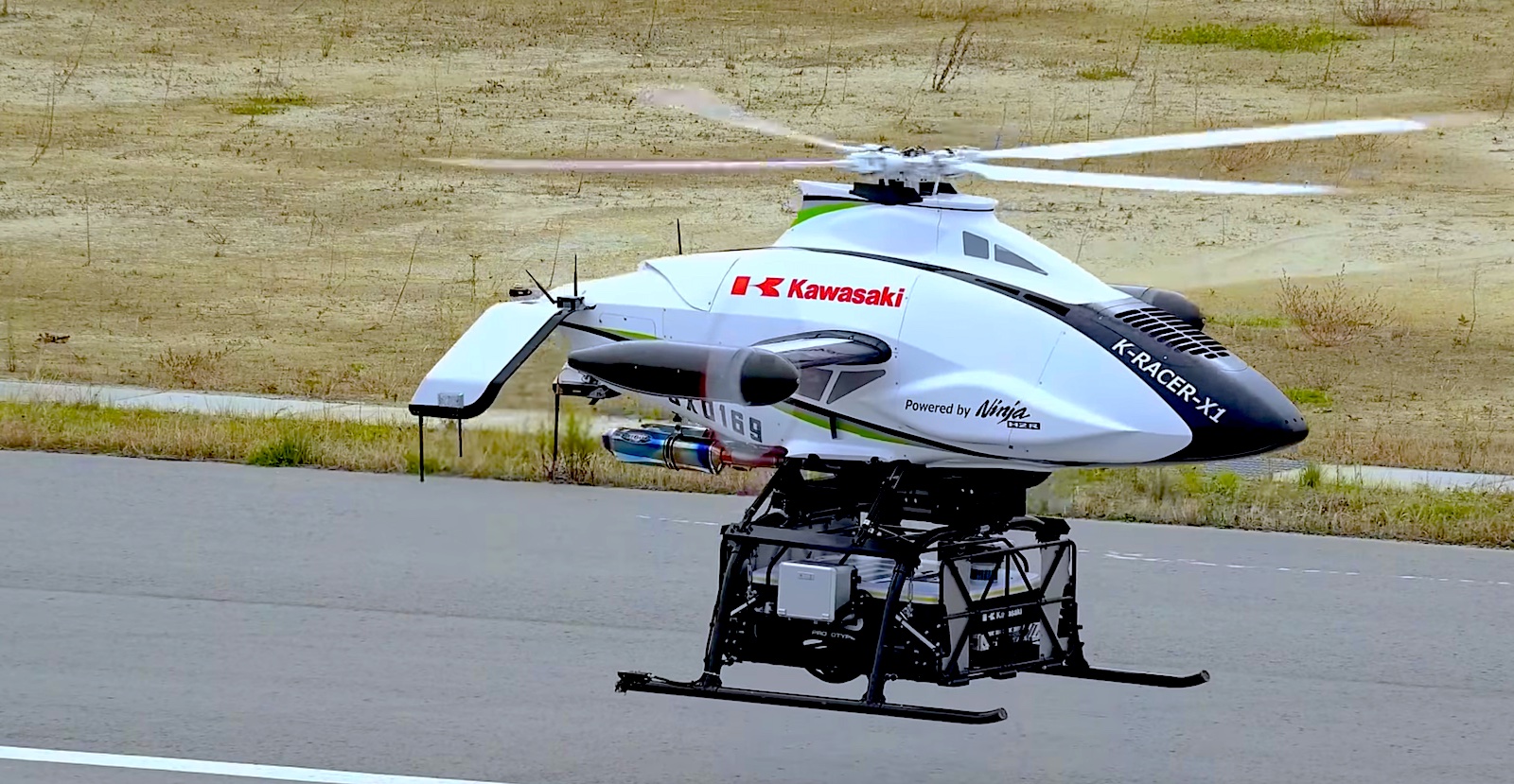 And in case you were wondering…yes, they've managed to modify the K-Racer-X1 to enable the potential for boarding. 
That's what blows my mind most, I think – that one motorcycle engine has the potential to send a person flying…but we kind of knew that already.
Brings a whole new meaning to the concept of 'flying motorcycle," doesn't it?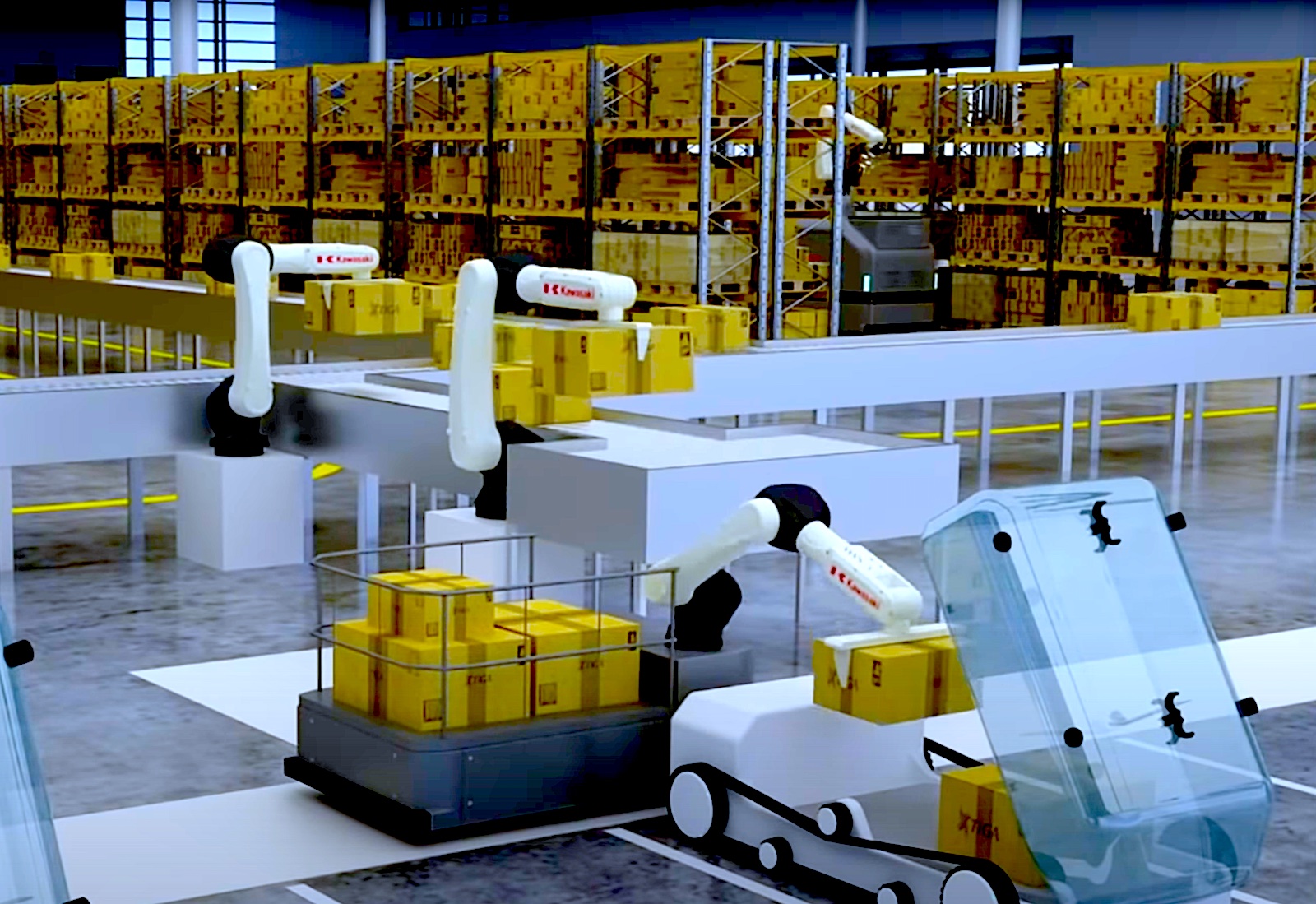 We look forward to hearing more on this peculiar robot; with the 998cc, liquid-cooled, 4-stroke DOHC, 16-valve, inline four-cylinder engine punching out 310hp @ 14,000rpm and supplying 121.5lb-ft of yank to the VTOL tech @ 12,500rpm, we'll be excited to see what all that cheddar means for the vertical factor.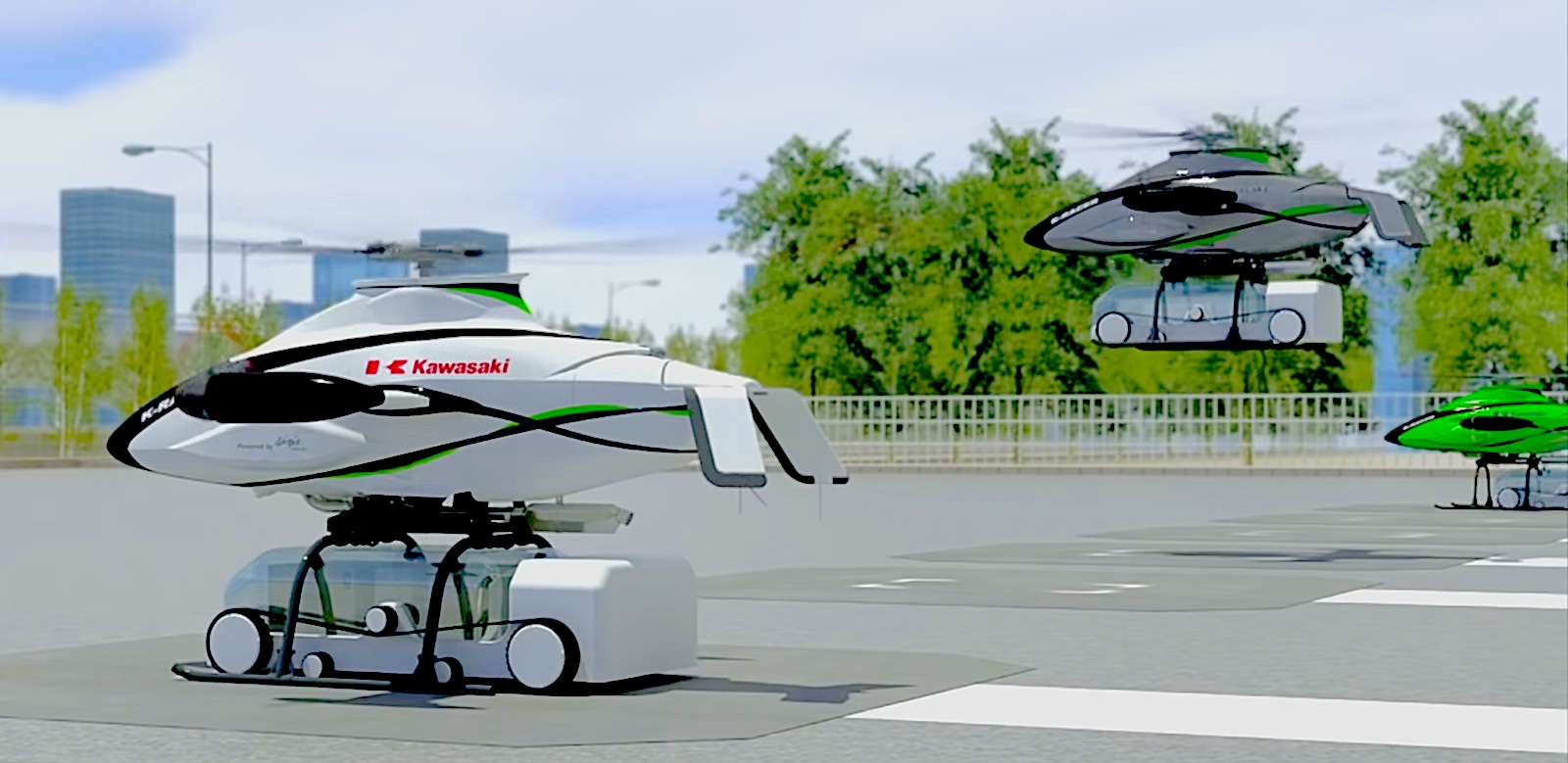 Stay tuned for updates, and as always – stay safe on the twisties.
*wBW does not endorse attempts to fly with motorcycle engines. Please stay alive so you can continue to read and comment on our articles. Thank you.*