The 2022 Kawasaki Ninja ZX-10R ABS: A Mark of Sport Riding Excellence
Contents
Kawasaki recently adopted their famous river mark—the logo that symbolizes the big Japanese bike brand's ongoing desire to push farther forward—as their official company logo. But the 2022 Kawasaki Ninja ZX-10R ABS sport bike was their first non-supercharged motorcycle to sport the design, and with good reason. This powerful iteration of the Ninja turned plenty of heads with its performance in the most recent World Superbike championships, ensuring that Kawis will always be taken seriously by those craving high speed and progressive engineering.
The 2022 Ninja ZX-10R ABS doesn't get any notable upgrades over last year's model. It still uses the same 998cc, liquid-cooled, 4-stroke, DOHC 16-valve in-line four engine, producing 203 hp and 82.5 lb-ft of torque. It also comes with a wide array of bells and whistles for riders—like electronic cruise control, the brand's trademarked Kawasaki Cornering Management Function, and an instrumentation panel that makes those computers in The Matrix with endless lines of code running down them look like the two-tone screen on a game boy (Google it, gen-z readers).
The bike does come in a new color scheme this year: metallic matte graphene steel gray / metallic diablo black, which looks just as high-tech and compellingly evil as it sounds. With aesthetics like that, it might just scare rivals like the BMW S1000 RR right off the road.
Kawasaki has added a truly serious sport bike soldier to their 2022 motorcycle lineup. The new Ninja ZX-10R ABS retails for $18,199 USD / $20,899 CAD. A non-ABS version is also available.
On this page: we've curated specs, features, news, photos/videos, etc. so you can read up on the new 2022 Kawasaki Ninja ZX-10R in one place.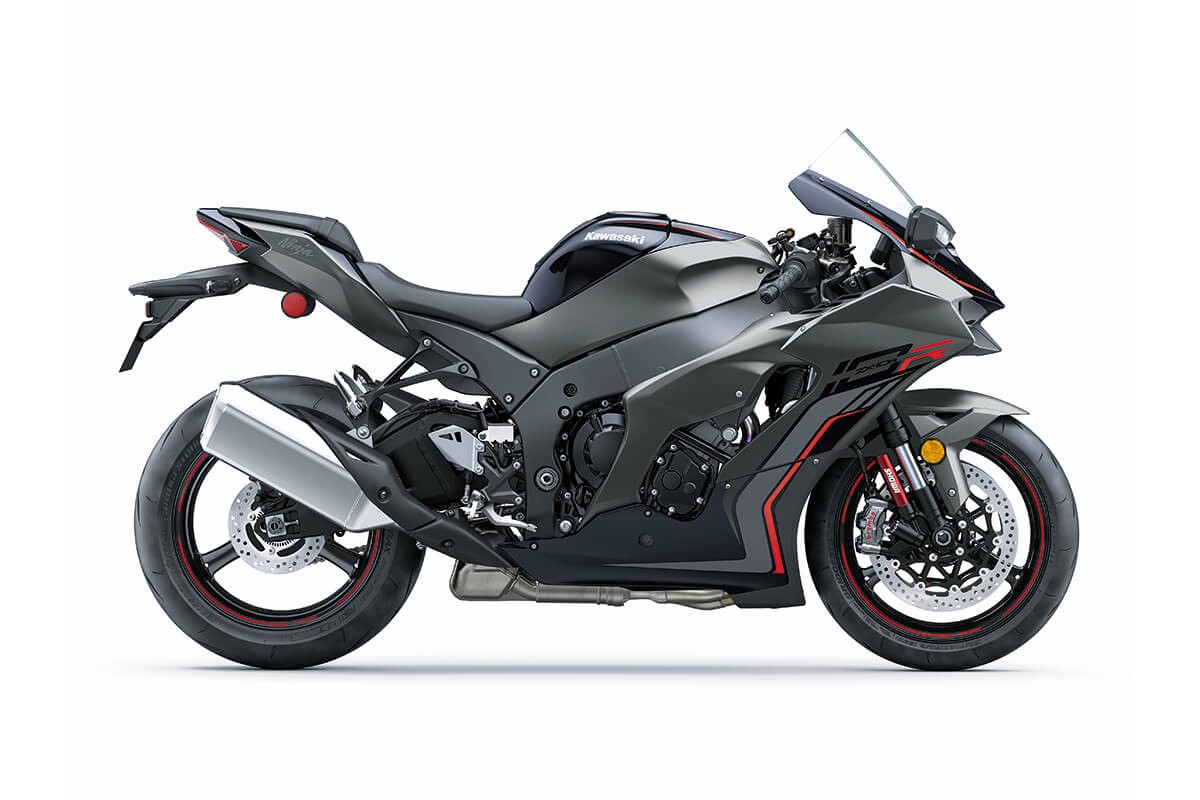 ---
Model Overview
General Info
Price: $18,199 USD / $20,899 CAD
Key Features:

Powerful 998cc In-line Four engine
Lightweight chassis for superior handling
Showa suspension and Brembo brake system
IMU-enhanced electronics package
Main Specs
Engine: 998cc, liquid-cooled, 4-stroke, DOHC 16-valve in-line four
Power: 203 hp
Torque: 82.5 lb-ft
Dry Weight: 456 lb (207 kg)
Seat Height: 32.9 in (835 mm)
Competitors
---
2022 Kawasaki Ninja ZX-10R ABS Specifications
| | |
| --- | --- |
| ENGINE | |
| Engine | 998cc, 4-stroke, In-Line Four, DOHC, 16-valve, liquid-cooled |
| Power | 203 Hp |
| Bore x Stroke | 76.0 x 55.0mm |
| Compression Ratio | 13.0:1 |
| Fuel System | DFI® w/47mm Mikuni throttle bodies (4) with oval sub-throttles, two injectors per cylinder |
| Starter | Electric |
| Lubrication | |
| DRIVETRAIN | |
| Clutch | |
| Transmission | 6-speed, Manual, Return Shift |
| Final Drive | Sealed chain |
| CHASSIS | |
| Suspension Front | 43mm inverted Balance Free Fork, adjustable stepless rebound and compression damping, spring preload adjustability/4.7 in |
| Suspension Rear | Horizontal back-link with Balance Free gas-charged shock, stepless, dual-range (low-/high-speed) compression damping, stepless rebound damping, fully adjustable spring preload/4.5 in |
| Brakes Front | Intelligent Braking (KIBS) (ABS only), Brembo dual semi-floating 330mm discs with dual radial mounted monobloc 4-piston calipers |
| Brakes Rear | KIBS-controlled (ABS only), single 220mm disc with aluminum single-piston caliper |
| Tires Front | 120/70 ZR17 |
| Tires Rear | 190/55 ZR17 |
| Fuel Tank Capacity | 4.5 gal |
| Color | Metallic Matte Graphenesteel Gray/Metallic Diablo Black |
| ELECTRICAL | |
| Ignition | TCBI with digital advance and Sport-Kawasaki Traction Control (S-KTRC) |
| Spark Plugs | |
| Headlight | LED |
| Tail Light | LED |
| DIMENSIONS | |
| Overall Length | 82.1 in. |
| Overall Width | 29.5 in. |
| Overall Height | 46.7 in. |
| Wheelbase | 57.1 in. |
| Ground Clearance | 5.3 in. |
| Seat Height | 32.9 in. |
| Curb Weight | 456.4 lb* |
| WARRANTY | |
| Warranty | 12 Months |
| Kawasaki Protection Plus | 12, 24, or 36 months |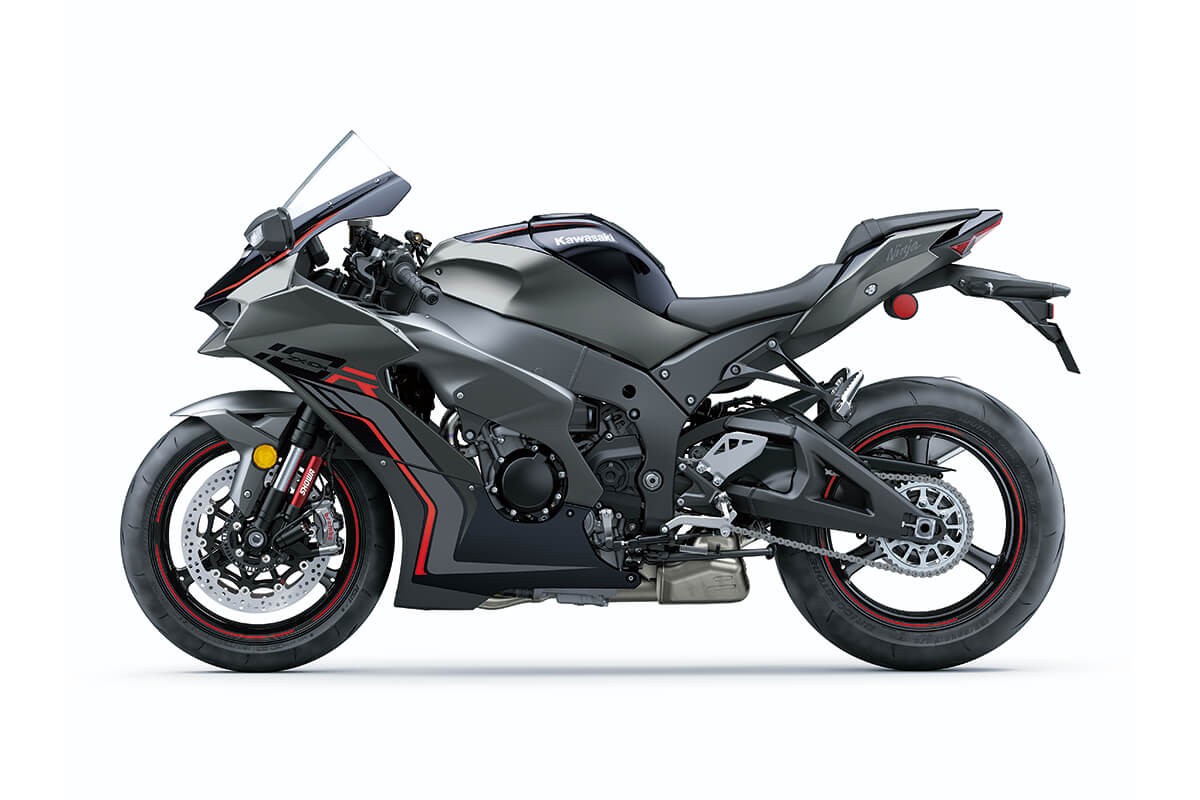 ---
2022 Kawasaki Ninja ZX-10R ABS Features
Economical Riding Indicator
Using high-precision electronic control for engine management, Kawasaki models can achieve a high level of fuel efficiency. However, fuel consumption is greatly affected by throttle use, gear selection, and other elements under the rider's control. The Economical Riding Indicator is a function that indicates when current riding conditions are consuming a low amount of fuel. The system continuously monitors fuel consumption, regardless of vehicle speed, engine speed, throttle position and other riding conditions. When fuel consumption is low for a given speed (i.e. fuel efficiency is high), an "ECO" mark appears on the instrument panel's LCD screen. By riding so that the "ECO" mark remains on, fuel consumption can be reduced.
While effective vehicle speed and engine speed may vary by model, paying attention to conditions that cause the "ECO" mark to appear can help riders improve their fuel efficiency – a handy way to increase cruising range. Further, keeping fuel consumption low also helps minimize negative impact on the environment.

Electronic Throttle Valves
Kawasaki's fully electronic throttle actuation system enables the ECU to control the volume of both the fuel (via fuel injectors) and the air (via throttle valves) delivered to the engine. Ideal fuel injection and throttle valve position results in smooth, natural engine response and the ideal engine output. The system also makes a significant contribution to reduced emissions.
Electronic throttle valves also enable more precise control of electronic engine management systems like S-KTRC and KTRC, and allow the implementation of electronic systems like KLCM, Kawasaki Engine Brake Control, and Electronic Cruise Control.

Kawasaki Engine Brake Control
The Kawasaki Engine Brake Control system allows riders to select the amount of engine braking they prefer. When the system is activated, the engine braking effect is reduced, providing less interference when riding on the track.

KLCM (Kawasaki Launch Control Mode)
Designed to assist riders by optimizing acceleration from a stop, KLCM electronically manages engine output to minimize wheel spin when moving off. With the clutch lever pulled in and the system activated, engine speed is limited to a determined speed while the rider holds the throttle open. Once the rider releases the clutch lever to engage the clutch, engine speed is allowed to increase, but power is regulated to minimize wheel spin and help keep the front wheel on the ground. The system disengages automatically once a predetermined speed has been reached, or when the rider shifts into third gear. Depending on the model, riders can choose from multiple modes, each offering a progressively greater level of intrusion.

KCMF (Kawasaki Cornering Management Function)
Using the latest evolution of Kawasaki's advanced modeling software and feedback from a compact IMU (Inertial Measurement Unit) that gives an even clearer real-time picture of chassis orientation, KCMF monitors engine and chassis parameters throughout the corner – from entry, through the apex, to corner exit – modulating brake force and engine power to facilitate smooth transition from acceleration to braking and back again, and to assist riders in tracing their intended line through the corner. The systems that KCMF oversees vary by model, but may include:

KQS (Kawasaki Quick Shifter)
Designed to help riders maximize their acceleration on the track by enabling clutchless upshifts with the throttle fully open, KQS detects that the shift lever has been actuated and sends a signal to the ECU to cut ignition so that the next gear can be engaged without having to use the clutch. On models that offer clutchless downshifts, during deceleration the system automatically controls engine speed so that the next lower gear can be selected without operating the clutch.

Power Modes
Models equipped with multiple Power Modes offer riders an easily selectable choice of engine power delivery to suit riding conditions or preference. In addition to Full Power mode, one (Low) or two (Middle, Low) alternate mode(s) in which maximum power is limited and throttle response is milder are provided.

ABS (Anti-lock Brake System)
Kawasaki ABS systems use front and rear wheel sensors to constantly monitor wheel speed. Should information from either of the sensors indicate that wheel lock has occurred, the ABS ECU directs the pump in the ABS unit to modulate brake fluid pressure (releasing and reapplying pressure so that traction can be regained) until normal operation resumes. ABS offers rider reassurance that contributes to greater riding enjoyment.

Horizontal Back-link Rear Suspension
Compared to the Kawasaki traditional Uni-Trak® rear suspension, which mounts the shock unit vertically, with Horizontal Back-link Rear Suspension, the shock unit is almost horizontal. The original Kawasaki suspension arrangement locates the shock unit very close to the bike's center of gravity, greatly contributing to mass centralization. And because there is no linkage or shock unit protruding beneath the swingarm, this frees up space for a larger exhaust pre-chamber (an exhaust expansion chamber situated just upstream of the silencer). With a larger pre-chamber, silencer volume can be reduced, and heavy exhaust components can be concentrated closer to the center of the bike, further contributing to mass centralization. The result is greatly improved handling.

IMU-Enhanced Chassis Orientation Awareness
The strength of Kawasaki's cutting-edge electronics has always been the highly sophisticated programming that, using minimal hardware, gives the ECU an accurate real-time picture of what the chassis is doing. Kawasaki's proprietary dynamic modeling program makes skillful use of the magic formula tire model as it examines changes in multiple parameters, enabling it to take into account changing road and tire conditions.
The addition of an IMU (Inertial Measurement Unit) enables inertia along 6 DOF (degrees of freedom) to be monitored. Acceleration along longitudinal, transverse and vertical axes, plus roll rate and pitch rate are measured. The yaw rate is calculated by the ECU using Kawasaki original software. This additional feedback contributes to an even clearer real-time picture of chassis orientation, enabling even more precise management for control at the limit.

---
2022 Kawasaki Ninja ZX-10R ABS Photos
---
2022 Kawasaki Ninja ZX-10R ABS Videos
First Ride & Impressions of New 2022 KAWASAKI NINJA ZX10R KRT EDITION
Superbike with the Most Tech? 2022 Kawasaki ZX-10R
---
Links
Kawasaki Official Websites